Zhiyang (Jenny) Shan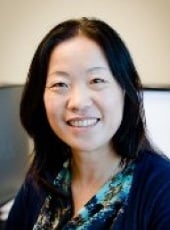 Associate Professor, Kinesiology and Integrative Physiology
Affiliated Assistant Professor, Biological Sciences
Affiliated Assistant Professor, Biomedical Engineering
Biography
Dr. Zhiying Shan is an Assistant Professor in the Department of Kinesiology and Integrative Physiology, and Adjunct Assistant Professor in the Department of Biological Science at Michigan Technological University. Her research interests focus on the mechanisms of neurogenic hypertension and associated cardiovascular diseases, particularly developing novel targets for the treatment and management of those diseases.
Research Interests
Mechanism of Neurogenic Hypertension
Brain Renin Angiotensin System and Hypertension
Neuroinflammation and Hypertension
Neuronal Mechanism of Metabolic Syndrome
Recent Publications
Qi X, Shan Z, Ji Y, Guerra V, Alexander JC, Ormerod BK, Bruijnzeel AW. Sustained AAV-mediated overexpression of CRF in the central amygdala diminishes the depressive-like state associated with nicotine withdrawal. Transl Psychiatry. 4: e385, 2014.
Shan Z, Zubcevic J, Shi P, Jun JY, Dong Y, Murça TM, Lamont GJ, Cuadra A, Yuan W, Qi Y, Li Q, Paton JF, Katovich MJ, Sumners C, Raizada MK. Chronic knockdown of the nucleus of the solitary tract AT1 receptors increases blood inflammatory-endothelial progenitor cell ratio and exacerbates hypertension in the spontaneously hypertensive rat. Hypertension, 61(6):1328-1333. 2013.
Zubcevic J, Jun JY, Lamont GL, Murca Tatiane, Shi P, Carvajal JM, Lin F, Li Q, Raizada MK, Shan Z. NTS (pro)renin receptor (PRR)-mediated antihypertensive effect involves NF-KappaB-cytokine signaling in the spontaneously hypertensive rats. Hypertension, 61:622-627. 2013.
Agassandian K, Shan Z, Raizada MK, Sved AF, Card JP. C1 Catecholamine neurons form local circuit synaptic connections within the rostral ventrolateral medulla of rat. Neuroscience, Neuroscience. 27;227:247-59.2012.
Verma A, Shan Z, Lei B, Yuan L, Liu X, Nakagawa T, Grant MB, Lewin AS, Hauswirth WW, Raizada MK, Li Q . ACE2 and Ang-(1-7) Confer Protection Against Development of Diabetic Retinopathy. 20, 28-36. Mol Ther. 2012.
Shan Z, Shi P, Cuadra AE, Dong Y, Lamont GJ, Li Q, Navar LG, Katovich MJ, Sumners C and Raizada MK. Involvement of the brain (pro)renin receptor in cardiovascular homeostasis. Circulation Research, 107, 934-938. 2010.