Welcome to Michigan Tech!
Congratulations on your acceptance! We look forward to welcoming you to the Michigan Tech campus. International Programs and Services (IPS) staff are here to assist you in getting acquainted with Michigan Technological University's campus and the U.S. culture. Among other things, IPS supports international students through programs like International Student Arrivals Week, Life@MichiganTech course, and various events throughout your time at Michigan Tech. Read the information below to learn more about preparing for your trip and requirements upon arrival.
Please communicate your plans for arrival with the IPS staff through email so we may assist you with anything you may need. Be sure to go through these tips before your Visa interview. In the weeks leading up to your arrival make sure you are checking your Michigan Tech email for important information about travel, resources, activities, and campus requirements. We will update this page often, so visit this site regularly.
Pre-Arrival and Travel Information
As you prepare to travel to Michigan Tech, please review the information found below to help you prepare for your trip. Please note, Michigan Tech follows the current United States Center for Disease Control and Prevention (CDC) guidance for international travelers.
Important Documents for Travel
Please keep your passport and I-20 with you at all times. The United States Immigration and Customs Enforcement will ask for them a few times during your trip.
Sign your I-20 before arriving in the United States, as you will go through Immigration and Customs.
Do not put them in the suitcase you will be checking in. Keep them with you in your backpack, purse, or the suitcase you will bring with you to the cabin in the plane.
They will ask you questions about your reasons to enter the United States. Please stay calm, show your documents, and answer their questions. Lines are usually very long, so be prepared for that.
Important Flight Information
All flights to Houghton, MI connect through Chicago, IL (ORD) Airport.
Flight Delays/Cancellations
The Hancock airport (CMX) is small and only serves flights to and from Chicago O'Hare airport twice a day. The only airline that arrives is United Airlines.
If your flight gets canceled or delayed, go to the United Customer Service Desk at the airport, call the United Customer Services phone at 1-800-864-8331, or visit the United Airlines website Missed, delayed, or canceled flights for more information.
If United Airlines rebooks your flight to a different airport than CMX (Hancock, Michigan), it might be very far and you will need to arrange your own transportation to the Houghton/Hancock area. For instance, Marquette is 2 hours away, Green Bay is 4 hours away, Detroit is 10 hours away, and Houghton Lake is 8 hours away (yes, Houghton Lake is NOT the same town as Houghton, Michigan).
Lost or displaced luggage - United Airlines Baggage Service Center 1-800-335-2247. They will ask for your last (family) name and your baggage claim number that was issued to you when you received your boarding tickets. It is usually a 10 character file reference number. You can request for your baggage to be delivered to your residence hall or apartment for your convenience.
Greyhound bus from Chicago, IL to Houghton, MI,
Purchase your ticket on the website Greyhound.com. You will need to take a taxi, Uber, or Lyft from Chicago's airport to the bus station. The bus trip is between 17-20 hours and it will drop you off at the Michigan Tech campus.
Do not try to take a taxi from Chicago's airport to Houghton/Hancock, MI (even if a taxi company offers you that option). It is 8 hours away, and it will be very costly.
Other options:
Rent a car - To rent a car you will need either an International Drivers License or a license from a reciprocal country. You can find more information here.
www.nationalcar.com 1-877-222-9058
www.alamo.com 1-877-222-9075
Join the Stuck Huskies Facebook group to find a ride. This is a resource for the Michigan Tech community and others to "unstuck" themselves if/when their flight between Hancock and Chicago is canceled. This group was created by a faculty member and has faculty, staff, and student members. Be courteous and respectful.
Important disclosure: This group is not managed or monitored by International Programs and Services or any
other department at Michigan Tech.
Transportation from the Hancock Airport (CMX) to Houghton, MI (MTU)
There is no public transportation from the airport to campus. We suggest making your airport pick up arrangements in advance.
IPS provides limited pick-up service from the Hancock Airport. Contact ips@mtu.edu for more information.
Options for transportation from Hancock's airport to Houghton or Hancock
Transportation from Chicago O'Hare Airport (ORD) to Houghton, MI (MTU) (FALL SEMESTER ONLY)
IPS provides limited transportation from the Chicago O'Hare Airport to Houghton, MI in the Fall semester only.
On August 17, 2022, two (2) buses will leave Chicago and travel for 7-8 hrs to Houghton, MI.
Bus 1 will leave at around 3:00 pm and arrive in Houghton, MI by 10:00 pm. You must arrive in Chicago, IL before 11:00 am to reserve a seat on this bus.
Bus 2 will leave at 10:00 pm and reach campus early in the morning of August 18, 2022. You must arrive in Chicago IL before 7:00 pm to reserve a seat on this bus.
The cost to reserve your ticket is $100 dollars per person. This fee is non-refundable.
You are permitted up to 3 suitcases, there is no additional charge for bags.
Ticket sales will begin on July 1, 2022.
Transportation on Campus and Around Town
Michigan Tech Transportation Services provides a shuttle service around campus and throughout Houghton. You can take the shuttle to go grocery shopping to stores like Walmart and Econo Foods. Please check the shuttle schedule in the shuttle webpage for the latest updates and other transportation options in town (such as Lift, and buses from the cities of Houghton and Hancock).
It can be very difficult to find housing in the Houghon community. Please do not wait till you arrive to find housing.
On-Campus Housing: You must secure housing arrangements before arriving at Michigan Tech. Please contact Michigan Tech Housing Services

for on-campus housing options. There are different choices for

undergraduate students

and

graduate students

. For on-campus housing, you will need to apply in advance. All the information is on the webpage, including availability and rates.

Please contact the Housing department for specific on-campus housing questions. International Programs and Services (IPS) will NOT arrange housing for you before or after your arrival

.
Off Campus Housing: There are a few options for off-campus housing in Houghton and surrounding towns. The Undergraduate Student Government has a webpage with off-campus housing listings

. Contact the

landlords directly and make your own arrangements. If you decide to live off-campus, make sure you understand the distance and how far is the place you are planning to live from the Michigan Tech campus. There are some options in downtown Houghton or other streets that are within walking distance. Some of the listings are in other towns such as Hancock, Chassell, or Calumet. Living in other towns might be cheaper than living in Houghton; however, transportation might be difficult. Hancock is only 2 miles (3.2 km) away from campus and some students decide to walk or ride a bicycle every day during the summer. But, walking or riding a bicycle during the winter will be difficult due to the cold and snowy weather. Chassell is 8 miles (12.8 km) away, and Calumet is 15 miles (24 km) away. If you do not live close to the Michigan Tech campus (within walking distance), you will need to walk, ride a bicycle, or buy a car. The City of Houghton public transportation route does not cover off campus housing options; you can use the "on demand"

service and call the bus every day for a fee, but this service can be unreliable, costly, and the wait is long.
If you do not secure housing before arriving, you will need to stay in a hotel and cover your own expenses. Here are some options.
820 Shelden Ave, Houghton, MI 49931
Phone + 1 844-208-0765
Houghton 1200 East Lakeshore Drive, Houghton, Michigan, 49931, United States
Phone +1 (906) 482-2240
Country Inn & Suites by Radisson
919 Razorback Drive, Houghton, Michigan 49931, United States
Phone +1 (906) 487-6700
Email: cx_hgmi@countryinn.com
215 Shelden Ave., Houghton, Michigan, 49931, United States
Phone + 1 (906) 482-1400
Fax (906) 482-1403
Houghton-Keweenaw1110 Century Way, Houghton, Michigan, 49931, United States
Phone +1 888 HOLIDAY (1 888 465 4329)
Ramada by Wyndham Hancock Waterfront
99 Navy St Hancock, Michigan, 49930, United States
Phone: +1 (906) 482-8400
600 Shelden Ave, Houghton, Michigan, 49931, United States
Phone: +1 (906) 481-1100
There is a Facebook group called "Danniell Heights Residents" where students living on campus post rooms or halls for rent, ask questions, and facilitate resources. This group is a student initiative and it is not managed or monitored by Housing, International Programs and Services, or any other department at Michigan Tech. Michigan Tech is not responsible for posts or services advertised in the group.
Weather and Metric System
During the winter, the average temperature in Houghton in a day can be 23F high and 5F low (-5/-17C) Be prepared! During the summer the temperature will be warmer, but there will be rainy
days and cold nights.
The United States uses different metric units than many other countries, such as Fahrenheit instead of Celsius for temperature, and Inches and Feet instead of Meters for length.
COVID Restrictions on Campus
Michigan Tech follows the Center for Disease Control and Prevention (CDC) guidance for COVID-19. If the guidance changes, Michigan Tech will adjust accordingly. Currently, Michigan Tech is operating at health and safety Level One. Make sure that you are familiar with the rules and requirements of level one, you will be required to follow them. The health and safety levels can change at anytime. Visit the MTU Flex website for the most recent COVID information and restrictions
Mandatory Steps Once You Arrive on Campus
Below are important steps all New International Students must complete once they arrive at Michigan Tech:
Register your immigration documents with IPS by completing

this form

upon arrival or making an appointment to meet with a DSO.
Purchase

Student Health Insurance
Pay Your

Student Bill and confirm enrollment
Email ips@mtu.edu to sign up for the required Life@MichiganTech course
All new international students MUST participate in the International Students Orientation.

Fall International Student Orienation will be

Wednesday, August 24

⋅

10:00am – 12:00pm MUB Ballroom A
Enjoy our Welcome video below from the staff at IPS to learn more about preparing to travel, you will also find helpful links below on things to bring, places to explore, and many resources to make your transition to Michigan Tech a successful one.
Remember we are here to help! You can call us, email us, or set up a Zoom call to ask questions any time!
Play Michigan Tech IPS Welcome Video video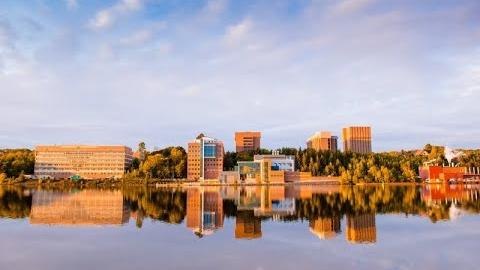 Michigan Tech IPS Welcome Video