During the fall and spring semesters, Transportation Services provides shuttle service around campus and throughout downtown Houghton.
Two Main Shuttle Routes
Husky Campus Shuttle

Includes Daniell Heights and Shopping

City Commuter Shuttle
Husky Shuttle Live
All of our shuttles are equipped with GPS units to provide the current location of each shuttle along its route. View mtu.edu/bus-routes for the current locations of all of our shuttles.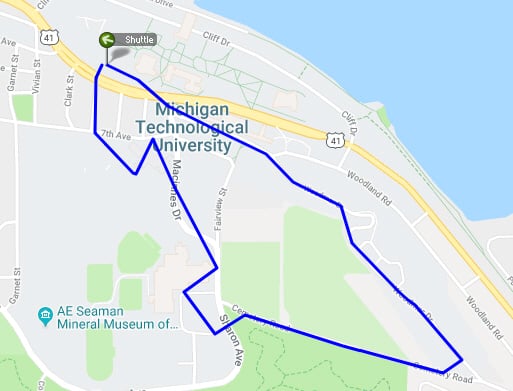 Shuttle Rules
Shuttles are provided by Transportation Services free of charge as a convenience for our students, faculty and staff. To ensure a safe and on-time shuttle experience please follow the passenger guidelines.
Husky Campus Shuttle
Students/Faculty/Staff and Guests
City Commuter Shuttle
Students/Faculty/Staff and Guests
Failure to abide by these rules may result in loss of shuttle privileges:
In accordance with University policy, all tobacco, smoke-free tobacco, and/or vapor use is prohibited at all times
Shuttles are only permitted to stop at the pre-designated locations
Wait until the shuttle has come to a complete stop before approaching the shuttle
Riders must be ready and waiting at the shuttle stop location prior to departure times
Never approach (e.g. "chase after") or otherwise try to stop the shuttle once it has left a stop location
Bags must be able to be carried on and off the shuttle in one trip and secured on your lap or directly under your seat at all times
Large purchases (bikes, electronics etc.) cannot be transported on the shuttles
Flammables, such as propane, are NOT permitted at any time
Aisles must be clear at all times
Strollers (if traveling with an infant) must be folded and stored in back seat of shuttle
Campus Shuttle Updates
Please Note: Shuttles may need to be cancelled due to vehicle issues or inclement weather. For timely updates on schedule changes please join the "Campus Shuttle Updates" Google Group.