The 34rd Parade of Nations and Multicultural Food Festival
September 16, 2023 @ 11:00 am
Since 1989, the Houghton and Hancock communities have been celebrating the rich cultural diversity of the Keweenaw. We are excited to continue that tradition in 2023. This year's theme is:
Fairy Tales from Around the World
2022 Parade of Nations Logo Contest Winner
Chiara Rapacci, a 17-year-old junior at Baraga High School, won this year's Parade of Nations logo contest. Her design will be the official logo of the Parade of Nations, printed on T-shirts, flyers and other materials.
It's incredibly appropriate that Chiara won, since the Parade of Nations celebrates multiculturalism in the Keweenaw, and she is an exchange student from Italy, sponsored by International Cultural Exchange Services (ICES), a nonprofit international high school student exchange program. Her logo illustrates this year's theme: The World is One.
2022 Parade of Nations Essay Contest Winner
Aidan Holley, 18, has won the Parade of Nations essay contest on multiculturalism. He will receive a $1,000 scholarship to Michigan Technological University, where he will study engineering management, starting this fall.
Multiculturalism is a fact of life for Holley, who lives in Baraga.
"I have lived in the Keweenaw Bay Indian Community most of my life. Half of my graduating class at Baraga High School was tribal."
The Parade of Nations essay contest was open to high school seniors who plan to go to Michigan Tech. It asked two questions:
What does multiculturalism mean to you?
Why does it matter to you, to your community, to our country, to the world?
In his essay, Holley writes: "In my community, Baraga County, this concept is especially important to understand. The Keweenaw Bay Indian Community lies within the area, and Baraga's culture can be divided mainly into two different groups: Yoopers with Finland in their blood and Native Americans who have been on this land for centuries. For the most part, we get along well together. But there are times that it can get problematic, because multiculturalism is a mostly unknown and foreign concept for much of our populations. If both groups put multiculturalism into effect for Baraga, it would create a more welcoming environment for either group to be more open to each other, spreading even more culture to each other without the worries of being slandered."
As for the importance of multiculturalism to the country and the world, Holley says: "My definition of multiculturalism is to have a better understanding of the people who surround us in our world. To me, it is really important to be able to harness this major ability, as it helps connect people from multiple different regions of the globe. For example, in a workplace, having workers who are American, Italian, Kenyan, Russian, Japanese, and/or Brazilian in the same area helps create diversity, which helps each culture to understand the other. Using this example all over the world would create an alliance of hundreds of different backgrounds and traditions and unite them together into one large hub that anyone can learn from."
Aidan goes on to say: "Our country is another good example of why multiculturalism is important to understand. It does happen in some areas of the United States, but only on certain occasions and in certain areas of the country. If it happened all over our society, it would create a much more accepting environment to be able to share whatever culture someone belongs to with a different culture."
The valedictorian of his class at Baraga High, Holley has won more than 20 scholarships. He was inducted into the National Honor Society in 10th grade. He also served on the student council.
"He's a phenomenal student and a great kid, but what really stands out for me is his huge heart," says Aidan's mother, Stefanie Holley. "He always goes out of his way to let everyone know how appreciative he is of the help they have given him--his classmates, his teachers, the bus driver. He recently sent a thank-you card to one of the lunch ladies."
Aidan's mother recalls another experience he had with multiculturalism. "We lived in southern Mississippi for three years when he was younger," she explains. "It was a completely different culture. He learned a lot there."
Both Parade of Nations contest winners this year were from Baraga. Chiara Rapacci, an exchange student from Italy, won the logo design contest. Holley was not surprised. "It reflects on the teachers at Baraga High School," he says. "I can't say enough good about the teachers there."
When Holley isn't excelling in school or being kind to the people around him, he likes to ride his Honda motorcycle, repair vehicles, collect coins and enjoy the vastness of Lake Superior.
The Parade of Nations will take place on Saturday, September 17. Read more on our Facebook Page.
2022 Parade of Nations Float Contest Winners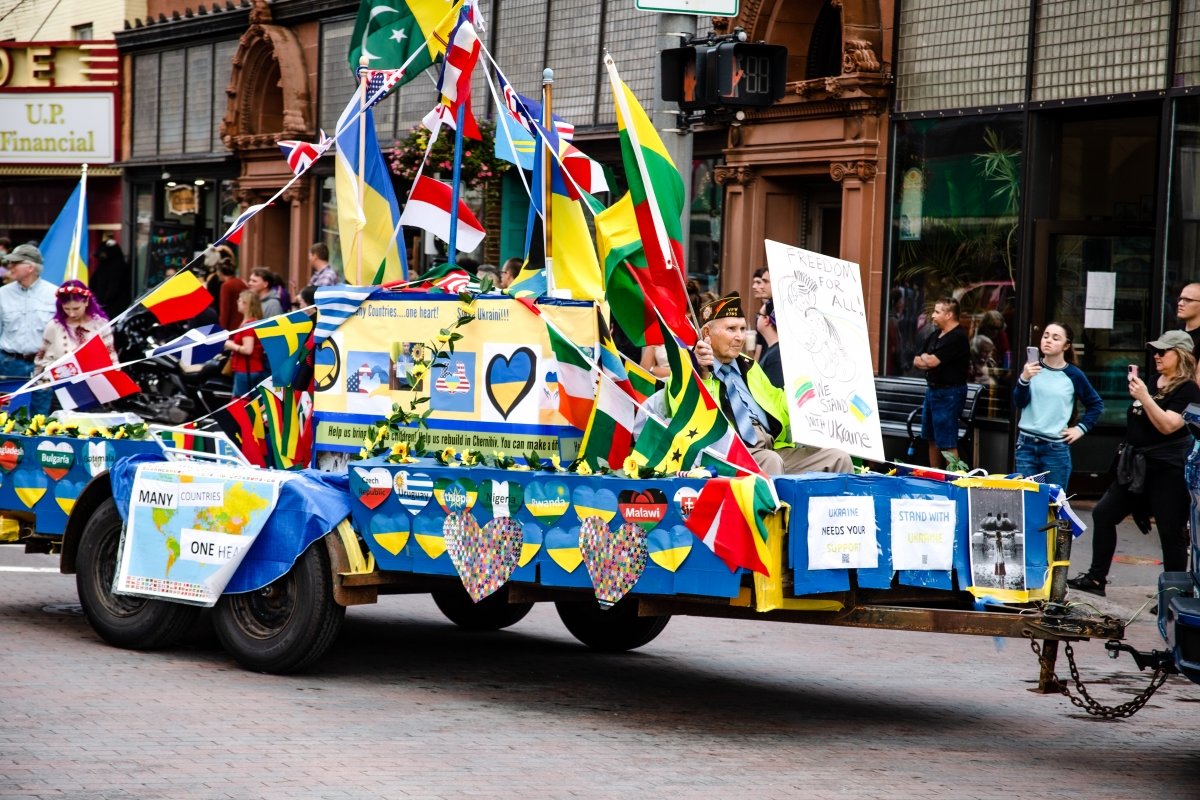 1st place: Fulbright Students' Association of Michigan Tech
---
2nd place: Keweenaw Bay Indian Community
---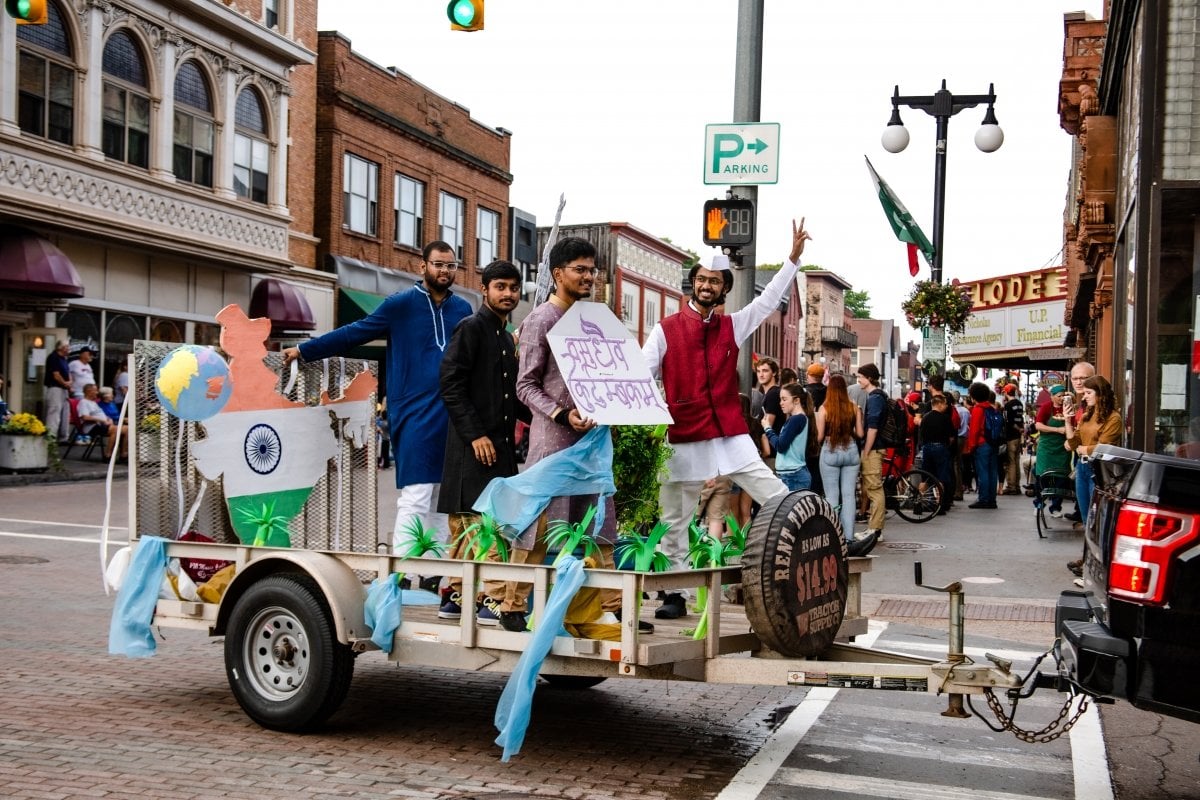 3rd place: Indian Students Association of Michigan Tech
---
Information about the Parade
The Parade of Nations will be held on Saturday, September 17, 2022 at 11:00 am! Student and community organizations are invited to enter floats or march in the Parade. Details about float guidelines, parade route, etc, will be provided later. International food returns this year!
The Multicultural Festival begins at noon at the Dee Stadium. For just $10 to $15, you can get a full meal or choose from international tidbits at more than a dozen food booths. with international student organizations offering the cuisine of their countries. (Please note that this price is just an estimate. Actual prices for the food items are set by each student organization separately, and the Parade of Nations Committee has no control over it. Prices may vary depending on inflation, cost of raw materials, etc.) Food will be available for take-out only this year.
For more information about anything, contact Parade of Nations at paradeofnations@mtu.edu, or call 906-487-2160. Be sure to follow us on Facebook for important updates!
Order Your 2022 Parade of Nation T-Shirt!
This year's Parade of Nation t-shirt will be on sale in the IPS office via cash and also at the Dee stadium for cash sales. The t-shirt cost will be $20 for one and two for $30. For more information about anything, contact Parade of Nations at paradeofnations@mtu.edu, or call 906-487-2160. Be sure to follow us on Facebook for important updates!