Earn an Interdisciplinary Online Geoinformatics Certificate. Work With Big Data in Geoscience.
Geoinformatics is an interdisciplinary field that combines geography, cartography, remote sensing, surveying, GIS (Geographic Information Systems), and computer science. In short, it is the science and technology of collecting, managing, analyzing, and visualizing geographic data.
Geoinformatics is used to solve problems in a variety of fields, such as urban planning, natural resource management, and disaster response. For instance, in urban planning, experts might use the tools of geoinformatics to identify future development areas and to analyze the impact of proposed policies and regulations on the landscape.
In the last several decades, the field of geoinformatics has expanded significantly due to advances in technology such as GPS (Global Positioning System) and remote sensing, which, along with cloud computing and machine learning, have driven the collection of more accurate and detailed geographic data.
MTU's Online Geoinformatics Certificate will equip you with skills and competencies for this evolving field. In this program, you will explore environmental geoscience, geospatial statistics, modeling and visualization, predictive analytics, and remote sensing applications. You will develop the skills to blend computational components, data processing, visualization features, and statistical functions; and apply the tools that are currently used in the field, such as ESRI, ArcGIS, Python, and R. Interpreting and communicating the results of data processing are also honed in this certificate.
Why Study Geoinformatics at Michigan Tech?
When you earn your online certificate from us, you'll get a quality education. In fact, Michigan Tech is ranked the #3 best accredited online college in Michigan. You'll also have other benefits.
A Rigorous Online, but Flexible Learning Experience

You'll take the same, robust classes as do students in our in-person programs. And you can easily fit this 9-credit certificate around your work schedule and other responsibilities.

A Personalized Program

Although the focus of this certificate is on data programming and analytics, students get to choose nine electives to create their own unique course of study.

Working With Faculty From Various Disciplines

You'll benefit from the perspectives of instructors from various fields: Civil, Engineering, Geospatial, and Environmental Science; Geological and Mining Engineering Sciences; College of Forest Resources and Environmental Science; and Social Sciences. And these faculty members put their geospatial expertise to work on innovative projects. For instance, Dr. Don Lafreniere, Chair of the Department of Social Sciences, is also the director of the Keweenaw Time Traveler, an online, interactive historical atlas.
Learn more about this Lafreniere's exciting project and other geospatial/big data research.
Personalize Your Program.
To complete their certificate, students chose three 3-credit electives. (However, in designing their programs, students are not allowed to take both FW 5550 and SS 5049; or both FW 5555 and SS 5050.)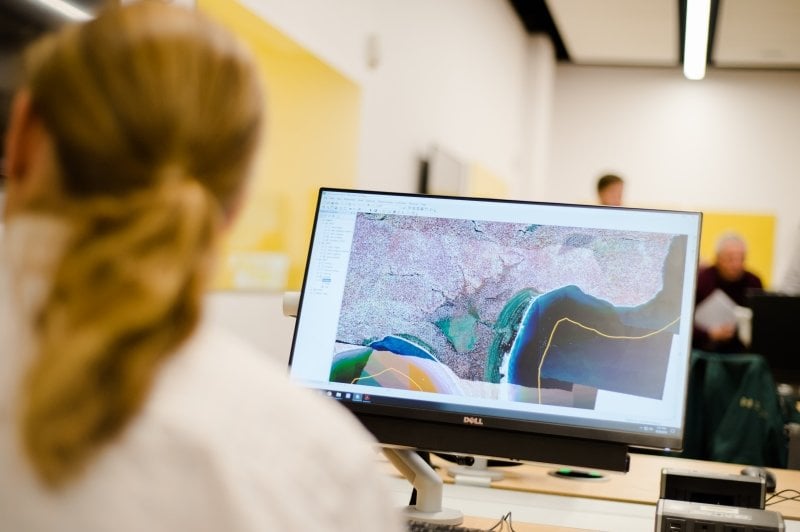 Electives (9 credits)
Geographic Informatic Science and Spatial Analysis (FW 5550)
Python Programming for GIS (FW 5553)
Advanced GIS Concepts and Analysis (FW 5555)
Python Programming in Geosciences (GE 5280)
Advanced Geoinformatics (GE 5515
Geostatics and Data Analysis (GE 5870)
GIS Applications for the Graduate Researcher (SS 5049)
Advanced GIS Methods and Projects (SS 5050)
Geospatial Data Mining and Crowd Sourcing (SU 5012)
Where Do Geoinformatics Experts Work?
You're probably wondering, "What can I do with an online geoinformatics certificate?" Well, there is an increasing demand for geospatial professionals and big data analytics experts.
In fact, those with geoinformatics expertise are employed in a variety of fields including government, engineering, natural resources management, urban planning, and disaster response. In these areas, they may take on research, consulting, or teaching roles. They may also work in private industry, providing data analysis, surveying, and mapping services to various clients.
Possible Career Paths
Environmental Engineer
Cartographer
Geographic Information Systems (GIS) Analyst
Geographer
Geological Engineer
Geospatial Engineer
Natural Resources Manager
Remote Sensing Analyst
Remote Sensing Engineer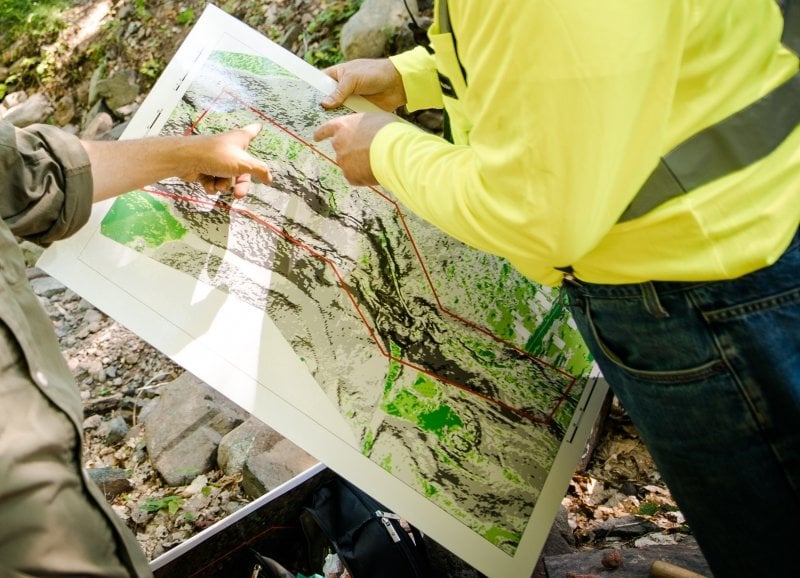 Get Started on Your Online Geoinformatics Certificate.
Take the next steps on your educational journey at Michigan Tech. We are here to answer your questions and to help you succeed in your online program.