Julie Seppala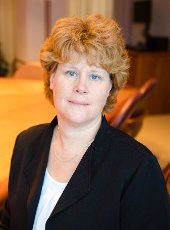 Contact
906-487-2642
Lakeshore Center 304
Vice President for Finance
Treasurer, Board of Trustees
Treasurer, Michigan Tech Fund
The VP for Finance oversees all areas within the Financial Services and Operations office: Student Business Services which includes Accounts Receivable and Collections; Financial Information Systems; and Controller which includes Michigan Tech Fund Accounting, Purchasing, Tax Accounting, Property and Plant Fund Accounting, and General and Auxiliary Fund Accounting with Accounts Payable and University Travel.
Biography
Julie Seppala was appointed the Vice President for Finance in December of 2016. In July 2014 she was appointed as the Treasurer of the University Board of Trustees and the Michigan Tech Fund Board of Directors. She was also appointed as the Executive Director of Financial Services and Operations in June 2013.
From 2008 until 2016, she was the executive director of the university's sponsored programs office, directing the federal and state proposal submissions, award negotiations, and financial compliance and reporting. From 1994 to 2008, she was the manager of the university's sponsored programs accounting office, directing the external and internal financial compliance and reporting requirements of sponsored programs. She came to Michigan Tech in 1990 as an Assistant Research Accountant.
Seppala earned a Bachelor's of Science degree in Accounting from Northern Michigan University in 1988. She has completed the Lean Facilitator training in 2012 and facilitated numerous campus process improvement events since 2008. Seppala co-wrote a publication "Kanbans for All" that was published in the January/February 2016 Volume 30, Number 1, Thomson Reuters Cost Management Journal.
She is a member of the National Association of Business Officers (NACUBO), National Association of Research Administrators (NCURA) and participates in the Council on Governmental Relations (COGR), the Federal Demonstration Partnership (FDP) and the Michigan Association of State Universities (MASU) State Business Affairs Officers Committee.
Links of Interest
Committees
Board of Trustees Audit and Finance Committee
Budgeting Team
Departments
Presentations
2018 Board of Trustees Meetings
Friday, May 4, 2018 - Financial Report

Friday, February 23, 2018—Financial Report

2017 Board of Trustees Meetings

Friday, December 15, 2017—Financial Report

Friday, October 20, 2017—Financial Report
Friday, April 28, 2017—Financial Report
Friday, March 3, 2017—Financial Report