Christopher (Kit) Cischke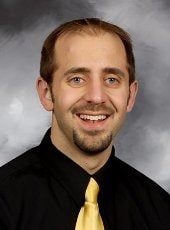 Teaching Professor, Electrical and Computer Engineering
Faculty Advisor, Wireless Communication Enterprise
MS, Computer Engineering, University of Minnesota
BS, Electrical Engineering, Michigan Technological University
Biography
Kit Cischke first came to Michigan Tech as a student in 1997. During his studies, he worked for IBM, verifying hard drive controllers in VHDL, and helped found one of the original Enterprise teams, the Wireless Communications Enterprise. He graduated in 2001 with a BS in Electrical Engineering. Upon graduating, Cischke worked for Unisys, where he helped design and verify the second-level cache of a custom processor and did various internal software development. During the four and a half years he was at Unisys, he was named as inventor or co-inventor on three patents. After completing his Master's degree in Computer Engineering at the University of Minnesota–Twin Cities, Cischke moved back to Houghton to teach undergraduate computer engineering classes, to serve as advisor to the much bigger and better-organized Wireless Communications Enterprise, and to pursue a PhD in Computational Science and Engineering. He teaches classes in digital logic, embedded systems, and introductory electric circuits. His PhD research is focused on simulation and modeling of complex systems on parallel computing architectures.
Links of Interest
Areas of Interest
Parallel computing and UPC
Engineering education
Mr. Cischke teaches courses in hardware/software system integration, computer system engineering and performance, and computer networks.