Dennis O. Wiitanen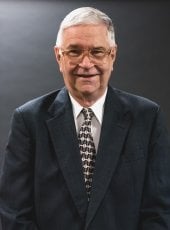 BS Electrical Engineering 1963
MS Electrical Engineering 1967
Dennis Wiitanen earned the degree Bachelor of Science in Electrical Engineering from Michigan Tech in 1963, and shortly thereafter joined Michigan Bell in Southfield, Michigan, as an electrical engineer. He later returned to Michigan Tech to pursue graduate study, and while working as a Graduate Teaching Assistant, he discovered that he wanted to make teaching his career. After completing the degree Master of Science in Electrical Engineering at Michigan Tech in 1967, he enrolled in the PhD program in Electrical Engineering at the Missouri School of Mines. By the time of his graduation in 1970 it had become the University of Missouri-Rolla and is now known as the Missouri Institute of Science and Technology - a history of development and name changes similar to those at Michigan Tech.
Having been offered the position of Assistant Professor of Electrical Engineering at the University of Missouri-Rolla, Dr. Wiitanen was all set to pursue his career there. However, Prof. Walt Anderson, then Assistant Chair of Electrical Engineering at Michigan Tech, convinced Dennis that he should make his way back to Houghton and accept the same position at Michigan Tech, where he would have the opportunity to lead the power program.
The newly minted Dr. Wiitanen accepted the offer starting in August 1970 and stayed on for the next 42 years, retiring in August 2012. During his tenure Dennis' emphasis was on the power program. After developing a strong undergraduate program, he turned his attention to the graduate program in power. He was successful in acquiring multiple industrial research contracts and external student fellowships. The addition of several faculty in the area over the years further expanded the breadth and depth of the power program, which included the addition of a viable and ongoing Ph.D. program in power.
Dr. Wiitanen is proud of the fact that the undergraduate elective sequence in power systems was the most popular sequence in the department and that he had taught over a 1,000 students in power systems during his career. He is very pleased to join several of them as members of the ECE Academy. At the time of his retirement, the ECE Department and the Office of Advancement were successful in raising about $500k in philanthropic funds, and by adding that to an existing endowed fund were able to create the Dennis Wiitanen Endowed Professorship in Electric Power Systems, a position currently held by Prof. Bruce Mork.
Dennis and his wife Barbara continue to live in Houghton and enjoy visiting their four children and nine grandchildren.