Tim A. Williams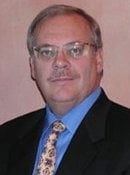 BS Electrical Engineering 1976
MS Electrical Engineering 1982
PhD Electrical Engineering 1985
Dr. Tim A. Williams '76 is the CEO of Beach Technologies, LLC, a consulting company that provides intellectual property assessments and investment due diligence studies for large multinational companies and venture funds. He is also the chairman of Docco Tech, Inc., a company that trains engineers in wireless standards, VoIP, and RFID. Additionally, Dr. Williams holds the position of CEO at BEEcube, Inc., which builds high-speed computing engines based on FPGA logic circuits. Finally, as chairman of Digital Schools, Inc., Dr. Williams has helped the company become the premier supplier of software tools for the management of K-12 public school districts.
Early in his career, Dr. Williams was employed by the Motorola Semiconductor Sector to lead groups that developed various telecommunications industry staples, including voice coders/decoders, transceivers, and modems. In 1991 he became the Co-Founder, Chief Technical Officer, Vice President of Engineering, and Vice President of Business Strategy for Wireless Access, Inc., a startup company that developed protocols, equipment, and single chip ICs for the Narrow Band PCS equipment market. Seven years later, Dr. Williams joined Picazo Communications as the Chief Technology Officer and a member of the advisory board, where he oversaw the development of software for PBX Voice Over IP telephony for the startup company.
Dr. Williams has served as the CEO to several communications technology companies, including Atheros, JetQue, and SIBEAM. He has also contributed as a member of Motorola's Corporate DSP Technology Steering Committee, as a member of the IEEE 802 Standards Committee, and as a member of Telocator—the industry organization representing one-way and two-way data communications technology in the United States. In 2002, Dr. Williams was certified as a patent agent at the US Patent and Trademark Office, where he has been issued twenty-six patents in communications, logic circuits, computer algorithms, computer systems, data processing, and power management in digital devices.
Tim Arthur Williams received a bachelor's degree from Michigan Tech in 1976. He subsequently earned an MS in 1982, a PhD in 1985, and an MBA in 1991 from the University of Texas in Austin.
From 2007 Induction to the Department of Electrical Engineering Academy