Shankar R. Mukherjee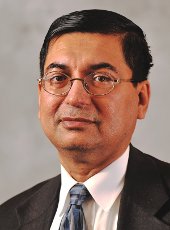 BS Electrical Engineering 1986
Shankar Mukherjee earned the degree Master of Science in Electrical Engineering from Michigan Technological University in 1986. He started his career at National Semiconductor in 1988. In their Local Area Networking division, he was responsible for several Ethernet devices such as 10Base T Ethernet controller, repeater and security and management ICs.
In 1996 he started the networking division at Enable semiconductor and as their Vice President of networking products, grew the business unit to a 25-member team. Under his leadership, Enable Semiconductor developed several fast Ethernet products like single and multiport 10/100 transceivers, repeaters and switches and was instrumental in Enable Semiconductors LAN division acquisition by Lucent Technologies in 1999. He served as Director of LAN Switching division at Lucent's Microelectronics group.
In 2000, he started TeraBlaze, Inc. TeraBlaze developed industry's first high-density 48 port Gigabit switch with two 10 Gigabit uplinks. The Company was acquired by Agere Systems in December 2003. In 2008, Shankar founded Dhaani Systems Inc. of Cupertino, California to produce energy-saving technologies for electronic systems. As the company's president and CEO, Shankar has brought several highly successful silicon solutions to market. He currently serves as a Director of Dhaani Systems, Inc. He has also been a contributing member in the IEEE802.3 forum, instrumental in standardizing the "auto-negotiation" protocol, and has participated in Entrepreneurship and Technology panel discussion at Michigan Tech. Shankar and his wife Phila reside in Cupertino, California.
Excerpted from the Electrical and Computer Engineering Academy induction ceremony program August 2016