Ron Van Dell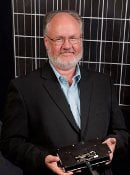 BS Electrical Engineering 1979
Alumni spotlight | A new way to harvest solar energy
"A lot of people think of solar panels as being all there is to solar" says Ron Van Dell, President and CEO of Austin-based SolarBridge Technologies. "They tend to think if panels were cheaper, then solar would be affordable. But, with the price of solar panels falling fast, what used to be the dominant cost is now less than half the total" Of the rest, the most important part, according to Van Dell, is the power inverter that converts dc current generated by the panels to ac current for household use.
"In a typical solar array there are many panels connected in series" explains Van Dell. This poses problems. "When one panel goes down, it can bring down all the others, much like a string of Christmas lights." But not anymore. SolarBridge has created a system in which each panel is wired with its own small inverter at the solar panel factory.
As a result, each panel is able to perform its own power conversion, and one does not affect the other.
Other benefits are that the system can be added to heterogeneously and progressively over time. And, because the SolarBridge technology converts each individual panel to standard ac wiring, the system is much safer to install and maintain than the high-voltage, dc-wired systems now in widespread use.
&Another major strength: SolarBridge ties users directly into the smartgrid. "Everyone talks about the smartgrid, but no one is quite sure what it means," notes Van Dell. To us it means providing a utility the ability to converse with a PV system up on the rooftop, in order to optimize overall grid performance. That's what creates a smarter grid.
SolarBridge's Power Manager serves as the communications hub of the array, continuously monitoring the performance of every panel in the PV system. It communicates directly with other devices as well as the company's Power Portal, a Web-based management system that enables users to monitor system performance 24/7 through Internet-connected computers and mobile devices.
Even on a damp and cloudy day, solar panels still churn out electricity at the new Michigan Tech Solar Photovoltaic Research Facility. Van Dell and SolarBridge provided the microinverters as well as its Power Manager/Power Portal for managing and monitoring the system. Dow Corning, of Midland, MI, and Hemlock Semiconductor, based in Hemlock, MI, donated PV panels from five different manufactures to the facility.
Van Dell predicts the facility will help drive solar power closer to widespread use. "This is a beginning platform for Michigan Tech," he says, adding that he expects the program to draw investigators from many engineering disciplines, as well as business. "All kinds of skills are needed to advance the state of solar technology." With an annual snowfall averaging 200-plus inches, Houghton, Michigan might not seem like the ideal spot to study photovoltaic systems. But SolarBridge tests their equipment in all kinds of conditions, from Antarctica to the American West. Snow can actually be a benefit, Van Dell said, since it reflects sunlight.
The facility will also provide opportunities for undergraduate work. Michigan Tech has a small weather station, and students in the undergraduate Alternative Fuels Group Enterprise team will correlate the solar cells' output with local weather conditions.
More about Ron Van Dell
Ron Van Dell graduated with a Bachelor of Science in Electrical Engineering, with honors, from Michigan Technological University in 1979. He serves on Michigan Tech's College of Engineering Advisory Board, and is a member of the Department of Electrical and Computer Engineering's Academy.
With more than 30 years of experience, Van Dell has an exceptional track record of leadership and success. Before joining SolarBridge Technologies, Van Dell served as president and CEO at Primarion, president and CEO at Legerity, general manager for Dell Computer's Dimension product line, and vice president-general manager of the Communication Products Business at Harris Semiconductor (now Intersil Corporation). Van Dell has also held previous international management positions in the US and in Europe at Groupe Schneider, Square D Company and General Electric.
From 2004 Induction to the Department of Electrical Engineering Academy