Richard J. Ford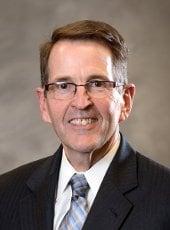 BS Electrical Engineering 1977
Richard (Rich) Ford received the degree Bachelor of Science in Electrical Engineering from Michigan Technological University in 1977. While earning his degree, Rich says he was fortunate to have studied under Dr. Dennis Wiitanen who provided him with a solid technical background in electrical engineering along with some valuable life lessons. Upon graduation he joined Consumers Power, now Consumers Energy, in Jackson, Michigan.
Early in his career Rich planned new generating resources, forecasted generating unit operation, developed power purchase contracts and was responsible for Hydro License compliance. After this, he took on the responsibility of the engineering group at Consumers' coal-fired Whiting plant in Erie, Michigan. With another move, he became the Central Region Operations Support Manager responsible for electric and gas distribution engineering. Rich was then made the Electric Field Manager responsible for all electric distribution operations in the Flint area serving over 190,000 customers. Rich became the Site Manager of the Karn-Weadock Complex in the Bay City area, home to four coal-fired units and two large oil and gas fired units. Rich completed his 37 year career at Consumers with assignments as VP of Energy Delivery, VP of Generation Operations and VP of Transmission.
During his career, Rich represented Consumers at the Michigan Public Service Commission along with certain EPRI and EEI Committees for both Generation and Transmission. He is a licensed Professional Engineer in the State of Michigan and resides in Holland, MI with his wife Suzanne.
Excerpted from the Electrical and Computer Engineering Academy induction ceremony program August 2016