Sarah A. Rajala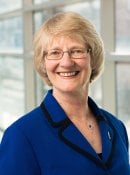 BS Electrical Engineering 1974
Sarah Rajala, who has pioneered the way for women in electrical engineering, graduated with a bachelor's degree in the field.
She is currently serving as dean of the Iowa State University College of Engineering and holds the James and Katherine Melsa Professorship in Engineering. Prior to this, Rajala served as the named dean of Mississippi State University's Bagley College of Engineering and head of the Department of Electrical and Computer Engineering. She earned both master's and doctoral degrees from Rice University, taught at North Carolina State University and Purdue University, and served as an adjunct research faculty member at the Wake Forest University Bowman Gray School of Medicine.
Rajala joined the faculty at NC State in 1979, where she was the first female professor in the Department of Electrical and Computer Engineering. Throughout her career at NC State, she served as a center director, Associate Dean for Academic Affairs, and Associate Dean for Research and Graduate Programs.
She is a member of the Society of Women Engineers; a fellow of the American Association for the Advancement of Science and the Institute of Electrical and Electronic Engineers; she served as president and is a fellow of the American Society for Engineering Education. She served as the chair of the Global Engineering Deans Council and is currently Chair-Elect of the Engineering Accreditation Council of ABET. A native of Skandia, Michigan, she was only the third woman — and the only one in her class — to graduate from Michigan Tech with an electrical engineering degree. She was a member of three honor societies: Mu Beta Psi (music), Tau Beta Pi (engineering), and Eta Kappa Nu (electrical engineering).
At Tech, Rajala is a member of the Presidential Council of Alumnae and the Electrical Engineering Academy and was the first alumna to receive Tech's Outstanding Young Alumni Award (1986). She was recognized again in 2008 with the Distinguished Alumni Award. Dr. Rajala was inducted into Michigan Technological University's newly formed Academy of Engineering Education Leadership in September 2018.
Dr. Rajala was the 2015 recipient of the Harriett B. Rigas Award. This national award is given by the Institute of Electrical and Electronics Engineers Education Society for exceptional contributions to electrical and computer engineering education and the global engineering community through student and faculty development, transformational and inclusive institutional and professional leadership, and engineering accreditation service.
Excerpted from Michigan Tech Magazine, Fall 2008
From 1997 Induction to the Department of Electrical Engineering Academy
Updated December 24, 2014, by Dr. Rajala
Updated January 26, 2016, by Alumni Engagement
Updated October 5, 2018, by Alumni Engagement