Paul K. Goethe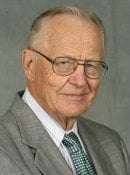 BS Electrical Engineering 1949
Paul K. Goethe received a bachelor's degree in electrical engineering from Michigan Tech in 1949. He continued his education through Westinghouse's advanced degree programs conducted by the University of Pittsburgh and Pennsylvania State University.

He joined the Westinghouse Specialty Transformer Department, serving as a design engineer, development engineer, supervising engineer and engineering manager. While at Westinghouse he co-founded Electronic Devices, Inc., a manufacturer of specialty transformers and power supplies and served as its vice president and general manager.

Goethe founded Optimized Program Service, Inc., a company specializing in offering computerized design software to the transformer industry. The company conducts seminars on transformer design theory, inductor design, ferro-resonant transformer design and transformer design decisions. He travels extensively to plants in Europe, China and Russia as a consultant to several large, internationally known companies and is currently supplying government agencies with data that will lead to new rules for energy-efficient transformers. Goethe has also conducted transformer design training classes for the IEEE's Power Conversion Products Council International. In short, he has become one of the world's most well-known experts on transformer design.

He has served as an industrial representative on several standards committees for the IEEE. In addition he was the national chairman of the Electronic Transformers Technical Committee of the IEEE Magnetics Society. He has also served on the IEEE Standards Committee for the IEEE Power Electronics Society.
From 2007 Induction to the Department of Electrical Engineering Academy