Paul Juodawlkis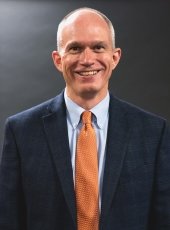 BS Electrical Engineering 1986
Dr. Paul Juodawlkis received the degree Bachelor of Science in Electrical Engineering from Michigan Technological University in 1986, a Master of Science degree from Purdue University in 1988, and a PhD degree from the Georgia Institute of Technology in 1999, all in electrical engineering.
Dr. Juodawlkis has focused his career on the development of advanced technology for national security as both a research engineer and technical manager at the Massachusetts Institute of Technology (MIT) Lincoln Laboratory. He began his career at the Laboratory in 1988 as a hardware systems engineer on the team that developed the Airborne Seeker Test Bed (ASTB) platform, an airborne multi-sensor instrumentation system used to evaluate the survivability of US air vehicles to missile attack and the effectiveness of electronic countermeasures. He flew 150 missions on the ASTB including a test campaign in support of Operation Desert Shield in 1991. After completing his doctoral degree in 1999, Paul returned to the Laboratory to conduct applied research in the areas of photonic subsystems and compound-semiconductor optoelectronic components. He has served as a leader of the Electro-Optic Materials and Devices Group (2008-2014) and the Quantum Information and Integrated Nanosystems Group (2014-present).
Paul is a Fellow of both the Institute of Electrical and Electronic Engineers (IEEE) and The Optical Society (OSA) for his research contributions to optical sampling techniques and to the development of the slab-coupled optical waveguide amplifier (SCOWA). He has authored or coauthored over 130 peer-reviewed journal and conference publications in the photonics field.
Paul has served as a member of the External Advisory Committee (EAC) for Michigan Tech's Department of Electrical and Computer Engineering (2000-2015), during which time he supported the Departments effort to establish a photonics concentration in the undergraduate curriculum. Paul has held leadership positions in, and received the Distinguished Service Award from, the IEEE Photonics Society. He is also proud to have coached youth soccer for seven years in the Arlington Soccer Club.
Paul currently resides with his wife Amy and son James in Arlington, Massachusetts, just outside of Boston.
From the Michigan Tech Electrical and Computer Engineering Academy induction ceremony on August 1, 2018.