Dave House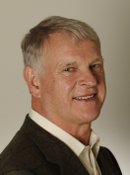 BS Electrical Engineering 1965
MS Electrical Engineering 0
Honorary PhD Engineering 0
Dave House began his career in 1965 as a computer designer at Raytheon Computer and Communications Division. In 1968 he joined Honeywell Computer Control Division and in 1972 became director of computer development at Microdata.
In 1974, House joined Intel Corp., and in 1978 became general manager of the company's Microcomputer Components Division. Over the next 13 years he lead the organization that developed the company's leading microprocessor product line, including the Pentium Processor, and grew that business from $40M to $4B per year. He also managed the team that developed the highly successful "Intel Inside" marketing program, one of the most recognized brands in the world and the most successful ingredient brand ever developed. In 1996 Dave launched Intel's Server Products Division leading Intel's entry into the server business where it now has over 85% market share.
In 1996, after 22 years at Intel, House took the helm of Bay Networks as Chairman and CEO at a critical point following the merger of SynOptics Communications and Wellfleet Communications. Having effectively reshaped the organization and rebuilt the product line, he negotiated and led Bay Networks through its merger with Nortel and became President of Nortel Networks after the completion of the merger in 1998. House began a 15-month sabbatical in the fall of 1999.
From January 2001 until April 2003, Dave was Chairman and CEO of Allegro Networks. He is currently Chairman of Brocade Communications Systems. In addition to owning House Family Vineyards, he is one of four owners of The Mountain Winery.
House enjoys his vineyard, racing cars, heli-skiing and heli-snowboarding as well as mentoring others during his active retirement. House is also involved with numerous community organizations through the House Family Foundation and is on the boards of Northeastern University, the Silicon Valley Education Foundation, the Computer History Museum and The Tech Museum.
House has a BS in Electrical Engineering from Michigan Technological University and an MS in Electrical Engineering from Northeastern University in Boston.
From 1998 Induction to the Department of Electrical Engineering Academy
Updated March 29, 2016 by Dave House