Franklin P. Weigold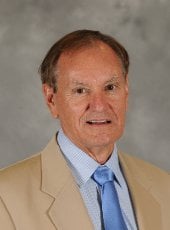 BS Electrical Engineering 1960
Franklin Weigold was born in St. Charles, Michigan. He earned the degree Bachelor of Science in Electrical Engineering from Michigan Tech in 1960, and went on to earn an MBA from the University of Pittsburgh. He began his career with Westinghouse Electric in Youngwood, Pennsylvania as an application and marketing engineer for power semiconductors. As one of the pioneers in silicon semiconductors, he worked on many state-of-the-art products and helped a multitude of customers bring new and exciting applications to market. In 1966 he joined TRW Inc., a company in the process of building an electronic components business. There he held a series of general management assignments that included Plant Manager for Electronics Components, Market Manager for Automotive Electronics, General Manager for Digital Products, and General Manager for Financial Systems. During this time Mr. Weigold was responsible for the development of products that brought electronics capability to the telecommunications, banking and automotive industry in the first and meaningful way.
In 1977, Mr. Weigold joined American Standard as Vice President and General Manager of their Mosler Teller-Matric Systems Division in Milford, Ohio. Here he was responsible for the design, development, manufacturing, marketing and service of a line of automatic teller machines sold to financial institutions. In 1978, he moved on to Silicon General Inc., in Garden Grove, California, where he was initially Executive Vice President and subsequently President. This startup company supplied power management circuits to the electronics industry and grew revenue over 500% during Mr. Weigold's time with the company.
In 1987 he joined Unitrode Integrated Circuits Company in Merrimack, New Hampshire, as Vice President and General Manager. During his tenure, he managed a revenue growth of over 367%, converted a loss position to one generating 23% before taxes, drove on-time deliveries to over 95%, reduced cycle times by 14 days, and generated outgoing quality levels to new industry standard levels. In 1990 he became President and COO of Unitrode Corporation and oversaw five operating divisions with over 1300 employees in four countries.
In 1992, Mr. Weigold became Vice President and General Manager of the Transportation and Industrial Products Division at Analog Devices, Inc. In this role he was responsible for four diverse product lines in multiple markets including automotive, industrial, military and consumer. In 1999 he became Vice President and General Manager of the Micromachined Products Division. Here he was responsible for the day-to-day operations of two business units with manufacturing in four locations. This business unit became the world leading supplier of micromachined products for the automotive industry with over 60% market share.
Mr. Weigold retired in 2004 and now spends his time serving on the corporate boards of Enpirion Inc. and Siimpel Corporation. He is the lead Director at Hittite Microwave Corporation. He and Barbara, his wife of 43 years, live in Gilford, New Hampshire. They have two sons living in the Boston area and a daughter in Santa Monica, California.
From 2010 Induction to the Department of Electrical Engineering Academy