Jeffery W. Feldt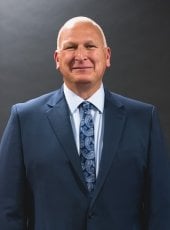 BS Electrical Engineering 1984
Jeffery (Jeff) Feldt received the degree Bachelor of Science in Electrical Engineering from Michigan Tech in 1984. He received an MBA from Grand Valley State University in 1996 and is a registered professional engineering in Wisconsin and Michigan.
Mr. Feldt has spent the last 35 years working in the electric utility industry. During college, he participated in the Cooperative Education Program with Bechtel Power Corporation where he received 20 months of practical field experience working in the field engineering department on construction of two nuclear power plants, Midland and Fermi 2. Jeff began his professional career in 1984 as a Distribution Engineer for Wisconsin Power & Light in Madison, Wisconsin, and later he was the Executive Director at Traverse City (Michigan) Light & Power and Electric Superintendent at the Holland (Michigan) Board of Public Works. He is currently the General Manager of Kaukauna Utilities in Kaukauna, Wisconsin, and has served in that capacity for the past 16 years.
Mr. Feldt has held numerous leadership positions on state and national electric trade associations and power supply agencies. For the past seven years, he has served as Chairman of the WPPI Energy Board of Directors in Sun Prairie, Wisconsin. He was a member of the Board of Directors of the American Public Power Association (APPA) and served as Chairman of APPA's R&D program, Demonstration of Energy & Efficiency Developments (DEED), both in Washington DC. Jeff has also served as the President of the Michigan Municipal Electric Association and the Municipal Electric Utilities of Wisconsin. He is the recipient of the APPA John Preston Personal Service Award and the MEUW Donald L. Smith Distinguished Service Award. Jeff also serves on the Fox River Navigational Authority Board of Directors, and the City of Kaukauna's Industrial Park Commission, Plan Commission and Redevelopment Authority.
Mr. Feldt has been married for 30 years to his wife Maureen and has two adult children, Alysia and Megan, and a Maltese Poodle named Ruby. In his spare time he likes spending time with family at their Lakewood cottage, playing golf, reading, and attending sporting events. Like a number of Michigan Tech graduates, Jeff has competed in Lake Superior Pro Rally (LSPR) races. He was the co-driver in car #98 and #543 in the mid 2000s. When he was enrolled at Michigan Tech in the early 1980s, he would regularly spectate at various stages of the Press on Regardless (POR) rally, the predecessor to LSPR.
From the Michigan Tech Electrical and Computer Engineering Academy induction ceremony on August 1, 2018.