Charles W. Rogers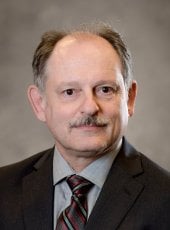 BS Electrical Engineering 1978
Charles W. Rogers grew up on his family's farm near Lowell, Michigan. Graduating from Lowell High School in 1974, he went on to earn the Bachelor of Science degree in Electrical Engineering from Michigan Tech in 1978, where he especially enjoyed playing tenor sax in Tech's Jazz, Pep and Concert Bands.
Charles began his career at Consumers Power Company, now Consumers Energy, as an engineer in their System Protection Division. Earning his Professional Engineer License, he was soon promoted to Senior Engineer, Division Head of Design and Standards, and then Lead Relaying Engineer of System Protection.
Rising to the rank of Principal Engineer at Consumers Energy, Charles was responsible for transmission system protection, the interconnection protection of distributed generators and switching surge analysis, and led the fault analysis group. He and his team at Consumers captured critical data right at the onset of the great power blackout of August 2003, and Charles was quickly asked to lead the Midwest regional investigation into the blackout.
Building upon lessons learned from that powerful experience, Charles went on to serve on numerous North America Electric Reliability Council (NERC) national standards committees and task forces for transmission and distribution compliance activities. He Chaired the System Protection & Control Task Force from 2004 to 2008 and also the Standard Drafting Team that developed NERC Standard PRC-023-1 for Transmission Relay Loadability, which dealt with key factors contributing to the 2003 blackout.
Charles continued as Chair of this NERC Standard Drafting Team for two subsequent revisions of PRC-023-3 and Chaired the NERC Standard Drafting Team that developed NERC Standard PRC-025-1 for Generator Relay Loadability. He also chairs the NERC team developing PRC-005-2 for Protection System Maintenance. More recently, he developed a compliance program to help assure that Consumers Energy is compliant with NERC Standards, and continues to lead oversight and monitoring of Consumers' compliance with those standards.
A Senior Member of IEEE, Charles is also a member of the IEEE Standards Coordinating Committee 21. He was a key member of the team that developed IEEE Std. 1547-2003 and related standards, which established for the first time standard requirements for the interconnection of distributed generation to the electric power grid.
Beyond work Charles has enjoyed many outdoors adventures over the years, including alpine and cross-country skiing, Hobie Cat sailboat racing, motocross racing, white-water canoeing and slalom racing, backpacking, hunting and fishing. He and his wife Lynn Conway, Professor Emerita of EECS at University of Michigan, live on their 24-acre rural homestead near Jackson, Michigan
Excerpted from the Electrical and Computer Engineering Academy induction ceremony program August 2016