Birgit L. Sorgenfrei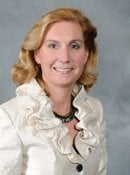 BS Electrical Engineering 1991
Birgit earned her Bachelor of Science Degree in Electrical Engineering from Michigan Tech, graduating summa cum laude in 1991. She then earned a MSEE degree from MIT, and later an MBA from the University of Michigan.
Birgit is the Global Business Manager for Powertrain Installations at Ford Motor Company, based in Dearborn, Michigan. Her 20-year career at Ford has included research on sensors for electrical power assist steering systems, component and system radio design, vehicle planning, hybrid battery software delivery, fuel cell technology development, and the introduction of StartStop Technology to North America. Previously, she worked for General Electric, Johnson Controls Inc., IBM, and General Motors, and internationally for Schlumberger Industries in France, the University of Hanover in Germany, and Ford Motor Company in England and Germany.
Birgit has been awarded Ford's Powertrain Engineering Achievement Award, the Society of Women Engineers Distinguished New Engineer Award, a FIRST (For Inspiration and Recognition of Science and; Technology) Robotics Appreciation Award, and the Michigan Tech Outstanding Undergraduate Student for the Michigan Association of Governing Boards of State Universities. Birgit is a Charter Member of the Michigan Tech Presidential Council of Alumnae, a member of the Electrical and Computer Engineering Academy and a President's Club Member. Birgit enjoys extensive travel abroad with husband Allen (Michigan Tech BSEE '87, MSEE '90 and PhD '97), and daughters Rebecca (17) and Evelyn (13).
December 22, 2014