William L. Adams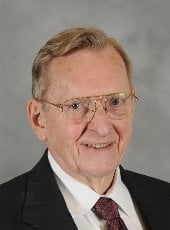 BS Electrical Engineering 1954
Dr. William Adams earned the degree Bachelor of Science in Electrical Engineering from Michigan Tech in 1954, and went on to pursue an MSEE degree from Massachusetts Institute of Technology, and a PhD in Electrical Engineering from Purdue where he stayed on as Assistant Professor. In the early 1960s he left academia to join the Industrial Nucleonics Corp. where over the next thirty years he successively led groups in engineering, field service, manufacturing, and marketing and attained the position of Senior Vice President. He was responsible for much of the company's leadership work in automatic control and instrumentation. His group developed the company's first computer-based paper machine control systems incorporating some of the early applications of distributed process control. Under Dr. Adams' direction the company, renamed AccuRay, developed a family of computer-based online systems for the measurement and control of sheet processes. He has a number of automation, control, and instrumentation patents. After AccuRay was acquired by Asea Brown Boveri, Dr. Adams led a group that formed a process automation joint venture in Russia to sell, install and apply process automation systems. Dr. Adams retired from ABB in 1994 and formed a consulting firm that provides engineering and management services to technical enterprises.
Dr. Adams and his wife Claire have eleven children (six boys and five girls). Two of his sons graduated from Michigan Tech: Jim Adams in electrical engineering and Robert Adams (deceased) in Wood Science. Dr. Adams' family has a long tradition of Tech alumni including his grandfather, Clem Adams, father, Robert Adams, and two brothers.
Dr. Williams died at Riverside Hospital, in Columbus, OH, on Friday, July 20, 2012.
From 2010 Induction to the Department of Electrical Engineering Academy
Updated 2016 by Alumni Relations staff