William G. Jackson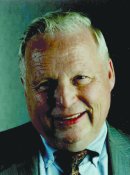 BS Electrical Engineering 1958
William Jackson has given much back to Michigan Tech. He and his late wife, Gloria, endowed the William and Gloria Jackson Assistant Professor of Computer Systems, currently held by Timothy Havens.
A native of Laurium, Jackson owned and operated NWR Electronics in Marquette from 1958 to 1980. In 1971, Jackson founded CableAmerica, a cable telecommunications operation. The firm grew rapidly thanks to a commitment to customer service and technical proficiency.
He was inducted into the Arizona Cable Telecommunications Pioneer Hall of Fame in 1998, and to the Electrical and Computer Engineering Academy in 2000. He received the University's Board of Trustees Silver Medal in the same year.
The Jacksons have established an endowed scholarship for undergraduate students majoring in electrical engineering, with preference given to graduates of Calumet High School, which provided Jackson, who remembers his roots, with a start in life that he continues to value.
Jackson's generosity has also transformed the learning experience for students across campus through the William G. Jackson Center for Teaching and Learning. The center brings together a full suite of technological tools to augment teaching and learning.
In 2006, Jackson was presented with the Distinguished Alumni Award, the Alumni Association's highest honor - for his professional achievements, for being a model of the entrepreneurial spirit, for being a champion of higher education - and for bringing distinction to Michigan Technological University.
Excerpted, in part, from the 2006 Alumni Reunion Awards ProgramUpdated February 2009
Updates from 2000 Induction to the Department of Electrical Engineering Academy
Updated with excerpts from Electrical and Computer Engineering Newsletter
The Circuit for Spring of 2014