June 29, 2020 - August 7, 2020
The Department of Chemical Engineering at Michigan Technological University invites non-Michigan Tech chemical engineering rising seniors to participate in a 6-week summer laboratory program, comprised of a unit operations laboratory and a chemical plant operations laboratory.
The program combines a unique hands-on laboratory education and training with the exploration of natural surroundings of the Upper Peninsula and Lake Superior.
In addition to planned social activities, you will have wonderful opportunities to discover the scenic Keweenaw countryside and the historic mining region.
Apply by March 16, 2020.
Play Chemical Engineering Laboratory video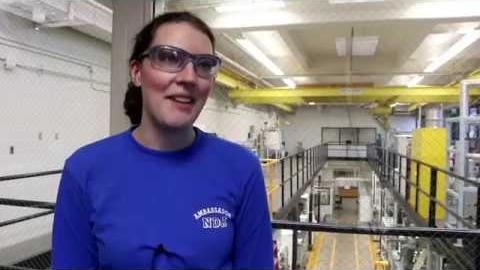 Chemical Engineering Laboratory
Experience unit operations and chemical plant operations over the six-week summer program.
Technical Program
The program provides a unique undergraduate learning experience with its world-class Unit Operations Laboratory, Chemical Plant Operations Laboratory, and Process Simulation and Control Center (PSCC). Students gain first-hand experience and exposure to distributed control programming, lock out and tag out procedures, team building skills, hazard operations assessment, total quality management, and basic industrial plant maintenance, fabrication, and installation. The students develop skills in data collection and analysis, statistical process control, team dynamics, design of experiments, and technical communication (both written and oral). Process safety is an integral component of each laboratory exercise.
The facility features 18 bench scale experiments: pumps, heat exchange, membrane separation, kinetics, liquid-liquid extraction, vacuum drying, distillation, flow measurement, particle processing, mineral extraction and recovery, and other unit operations. Students gain hands-on experience with two fully automated pilot plants: a three-story distillation column (solvent recovery unit) and a two-story jacketed batch reactor. The PSCC is equipped with a DeltaVTM control system and OSI Soft-PIdataTM historian and data retrieval system.
Course Fee and Registration
The six-week program will cost a maximum of $8,500, depending on Michigan residency, and would cover tuition and fees, accommodations, and most meals. It also includes some planned social activities. All students will receive 6 semester credit hours for the work done in this six-week programs. These can be used towards satisfying the Unit Operations Laboratory course requirements, ChE or Technical electives. The home university must approve the students' participation in the course. A deposit of $3,000 is required with your course registration. The deadline for the registration is March 16, 2020. The balance would be due on June 1, 2020.
Eligibility
The students must have acceptance from their home institution to attend. The program is designed for rising seniors who have taken equivalent courses in material and energy balances, thermodynamics, unit operations, and reaction engineering and kinetics.
General Information
The program (laboratory and classes) will operate in the Department of Chemical Engineering. Michigan Technological University is located in Houghton, MI, about 360 miles north of Chicago. For those wanting to travel via air, United flies between Chicago O'Hare (ORD) and Houghton County airport (CMX).
We recommend arriving in Houghton on Saturday (June 27, 2020) to help settle and go through the orientation on Sunday. The program would begin on Monday (June 29) and conclude on Friday (August 7). The check-out will be on Saturday (August 8, 2020). You will stay in the Michigan Tech dorms with wi-fi and parking facilities. During your stay, you will have access to the campus amenities, including library, computer, printing, and athletic facilities.
Further Information
Contact Pradeep Agrawal (pkagrawa@mtu.edu) or Alexis Snell (aesnell@mtu.edu) to express an interest, and you will be sent registration information and other program details.