F. William Baxandall, PE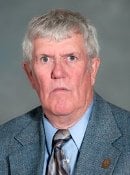 BS Civil Engineering 1959
Bill Baxandall completed his baccalaureate degree in civil engineering in 1959. His academic career was interrupted in 1955 by two years of service in the U.S. Army, Mountain and Cold Weather Training Command. Upon returning to Michigan Tech, he transferred from electrical engineering to his destiny in civil engineering.
Following graduation, he joined the US Forest Service as an engineer and spent the next 25 years in various positions. During the last 11 years of his time with the Forest Service, he was based in Juneau, Alaska serving as the Assistant Director of Engineering. Following his retirement in 1983, he started Baxandall Associates, a consulting engineering company in Juneau. Baxandall Associates, and later BRD Consultants, LLC, specialized in the design of small water and wastewater treatment systems and structural analysis and design.
Mr. Baxandall is a member of the National and Michigan Society of Professional Engineers, the American Society of Civil Engineers, and the American Water Works Association. He is a registered Professional Engineer in five states.
Bill and his wife, Sheila, relocated back to the Keweenaw in 2005. Since that time, Bill has been pursuing a graduate degree in civil engineering and has been an active supporter of the department's senior design program and the concrete canoe team. The Baxandall's have also been active supporters of Michigan Tech's Alpine and Nordic skiing programs.
From 2009 Induction to the Civil and Environmental Engineering Academy