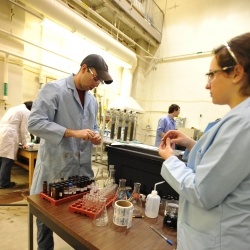 Environmental Process Simulation Center
The Environmental Process Simulation Center is a teaching facility that affords students hands-on opportunities to explore bench and pilot-scale processes for water treatment, wastewater treatment, and air-pollution control. Students also gain exposure to computer-control and data-acquisition techniques through their experimentation. Industry and consulting partners provide the unit processes that are studied.
Contact: Daisuke Minakata
Location: Dow 106
---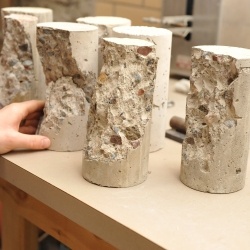 Benedict Lab—Concrete Initiative Research Laboratory
Benedict Lab offers 15,000 square feet of space dedicated to cement and concrete research. The facility is organized across three floors. The lower floor provides an area for mixing fresh concrete samples, including a room specifically calibrated for ultrahigh-performance concrete; the main floor, serviced by a five-ton overhead crane, is designed for large-scale testing; and the upper floor is equipped for the preparation of concrete samples, and also houses the split Hopkins bar for dynamic material characterization. The lab is staffed by technicians certified in concrete and aggregate, by the American Concrete Institute and the Michigan Concrete Paving Association, respectively, and has received a Pursuing Cement and Concrete Reference Laboratory certification. Testing services include slump of hydraulic-cement concrete (ASTM C143-00); and density (unit weight), yield, and air content (gravimetric) of concrete.
Contacts: Theresa Ahlborn, Lawrence Sutter
Locations: Minerals and Materials U112, U001 (Ahlborn), U002, &003 (Sutter)
---