Todd I. Stewart, PhD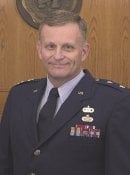 BS Civil Engineering 1968
Major General Todd Stewart completed his baccalaureate degree in civil engineering in 1968. From there he was commissioned into the United States Air Force as a distinguished graduate of Michigan Tech's Reserve Officer Training Corps program. He went on to complete a master's degree in engineering administration from Southern Methodist University in 1971 and a doctoral degree in management in 1980 from the University of Nebraska, Lincoln. He is also a distinguished graduate of Squadron Officer School, Air Command and Staff College, and Air War College at Maxwell Air Force Base in Alabama.
Major General Stewart is the Director of Plans and Programs, Headquarters Air Force Materiel Command, at Wright-Patterson Air Force Base in Ohio. As director, he is responsible for development of the command's strategic and long-range plans; resource programming and allocation for all major business areas; and other workforce and organization policies. He has served in a variety of Air Force civil engineer positions, including Deputy Air Force Civil Engineer and Command Civil Engineer for both Air Education and Training Command and Air Force Materiel Command. He has also served as an associate professor of management at the Air Force Institute of Technology.
Over the course of his career, Major General Stewart has been honored with many awards including: the Legion of Merit; the 1980 Gage H. Crocker Award for outstanding professor from the Air Force Institute of Technology; and in 1993 the Society of Military Engineer's Newman Medal for most outstanding Air Force civil engineering contribution. The general and his wife, Dorothy, live in Dayton, Ohio and have one adult daughter, Sarah, who is also an officer in the Air Force.
From 2001 Induction to the Civil and Environmental Engineering Academy