Thomes M. Healy, PE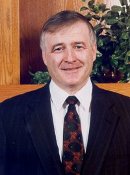 BS Civil Engineering 1965
Tom Healy came to Michigan Tech from Grand Rapids and earned his baccalaureate in civil engineering in 1965. Following graduation, he returned to Grand Rapids and joined Owen-Ames-Kimball (O-A-K) Co. as a project engineer. He was named to the Board of Directors in 1976 and was elected President of the Company in 1988. At O-A-K, he has been project engineer, superintendent, and coordinator of several major projects including the $22 million Blodgett Memorial Medical Center Expansion, and the $19 million Grand Rapids Convention Entertainment Center.
Tom is active in many professional societies including the National Society of Professional Engineers and the Professional Engineers in Construction. He is a member of the Board of Directors and Past President of the Grand Rapids Builders Exchange, as well as a Board Member, Vice President, and Legislative Committee Chair of the Michigan Chapter of the Associated General Contractors of America. He serves on the Executive Council for the Michigan Tech Civil and Environmental Engineering "Partnering with the Future" Campaign, is a corresponding member and past chairman of the Michigan Tech Civil and Environmental Engineering Professional Advisory Committee, and is a member of the Michigan Tech President's Club.
Tom has given his time generously to several civic and charitable organizations. He served as a United Way Cabinet Member, as varsity hockey coach for Grand Rapids Catholic Central High School., and as a member of the Catholic Diocese of Grand Rapids Building and Planning Committee. Tom and his wife Kathy have four children and live in Rockford, Michigan.
From 1996 Induction to the Civil and Environmental Engineering Academy