Thomas F. Valent, PE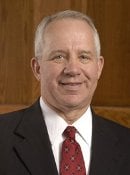 BS Civil Engineering 1973
Mr. Thomas Valent is President of Gerace Design Group, and Executive Vice-President of Gerace Construction Company, Inc. in Midland Michigan. He served as 1st Lieutenant in the U.S. Army Combat Corp. of Engineers from 1971-1973. Mr. Valent joined Gerace Construction Company as a Civil Construction Engineer after completing his Baccalaureate degree in Civil Engineering in 1973.
Over the years he has supervised a wide-range of multi-million dollar construction projects including; Lobdell Emery and Oxford Automotive plants in Michigan, Indiana and Mexico. Hydro-Electric Power Plant rehabilitations at Canada's Big Eddy Dam, the Max Starke Dam in Texas, Michigan's own Consumer's Energy locations; Five Channel Dam, Croton Dam, Webber Dam, and the Midland Co-generation Venture, and most recently Rochester Gas & Electric's Station #5 in upstate New York.
Mr. Valent is a Registered Professional Engineer in Michigan, Indiana and Florida. He is a member of several professional organizations including the American Society of Civil Engineers, the American Society of Concrete Construction, the American Concrete Institute, the Michigan and National Societies of Professional Engineers, the Society of American Military Engineers and the Association of State Dam Safety Officials.
He is also Dean of the Charles W. Howard Santa Claus School. Founded by Howard in 1937, the school located in Midland Michigan, is recognized as the oldest Santa School in the world. Mr. Valent, along with his wife Holly, conducts annual classes at the school, and recently hosted the first World Santa School in Illulisatt, Greenland.
From 2004 Induction to the Civil and Environmental Engineering Academy