C. Thomas Maki, PE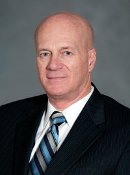 BS Civil Engineering 1971
Tom Maki completed his Baccalaureate degree in Civil Engineering in 1971. Following graduation, he joined the Michigan Department of Transportation and over the next 30 years advanced through the Resident Construction Engineer and District Engineer positions to the executive level as the Chief Operations Officer. In his role as COO, he was responsible for the Department's annual $1.5 Billion Capital Improvement Program and for executing the Department's scheduling and budgetary goals through the 2500 employees in the Bureau of Highway Operations, Bureau of Highway Technical Services, and the Bureau of Planning.
Mr. Maki has been using his program and project management expertise in the consulting engineering arena since his retirement from MDOT in 2002. Currently he is serving as Vice President of Aztec Engineering Group, Inc. of Phoenix, Arizona.
Tom has been a strong supporter of the Department through his service on CEEPAC, the Civil and Environmental Engineering Professional Advisory Committee. He has also been an active participant on the Pavement, Design, and Construction Materials Enterprise Advisory Board.
From 2009 Induction to the Civil and Environmental Engineering Academy