Theodore Pintcke, PE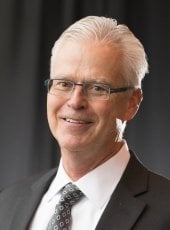 BS Civil Engineering 1976
Ted Pintcke graduated from Michigan Tech in 1976 with his baccalaureate degree in civil engineering and began his career with Black and Veatch Engineer Architects, a firm specializing in deployment of electric power, water, and critical infrastructure globally. In his 42 years at Black and Veatch, his major roles included Executive Sponsor for strategic initiatives and clients, Project Director, Project Manager, Chief Engineer, and Office Manager.
Recently retired, he last served as the Senior Vice President and Business Development Director for Black and Veatch's global power engineering and construction business. This unit designs, builds, and services power related projects (nuclear, coal, natural gas, hydro, wind, and solar) throughout the world, employs some 2500 professionals and generates approximately $1.7B in earned revenue annually. In this role, he led the sales, marketing, applied intelligence, and growth strategies for the business unit, touching some 50+ countries and all 50 US States. He was as well responsible for the development of biofuels, hybrid power and desalination, and energy storage technology development and related growth strategies.
Mr. Pintcke served as a member of the American Council of Engineering Companies (ACEC) Energy Council. He has held PE licenses in Kansas, Indiana, Illinois, North Carolina and Michigan. He has delivered 12 presentations for the PowerGen community, which is an international power generation event focused on disseminating information on technology, innovation, and policy advancements.
Mr. Pintcke remains active in his church and community, providing aid to urban Kansas City schools and purchasing and converting abandoned properties to serve the homeless community within the revitalized downtown Kansas City area.