Ronald J. Pasquinelli, PE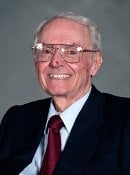 BS Civil Engineering 1959
Ronald Pasquinelli completed his baccalaureate degree in civil engineering at Michigan Tech in 1959 and later earned a Master of Business Administration degree from Golden Gate University. In 1960 Mr. Pasquinelli was commissioned as an officer in the U.S. Navy Civil Engineering Corp. During his military service he was a project manager and company commander with U.S. Naval Construction Forces in the western Pacific.
Following his military service, he worked as an estimator and project manager in the heavy construction industry. He then joined an international business consulting firm as a Management Consultant.
In 1970 he moved to California and founded Pasquinelli Investment Management (originally named Ronald J. Pasquinelli & Co.) in Monterey. He provided investment advice on strategy to other institutional managers and managed private retirement plans and trusts for individuals until his retirement in 2002.
Mr. Pasquinelli is a registered Professional Engineer in Illinois. He is involved with several community organizations including serving as President of the Monterey Peninsula Taxpayers Association and Chairman of the Board for the Monterey Institute for Research in Astronomy (MIRA). In 1982, MIRA built the first privately funded astronomical observatory in the U.S. in over 100 years.
Ron has continued to be an active supporter of Michigan Tech over the years. In 1995 the Ronald J. and Marie B. Pasquinelli Educational Opportunity endowed scholarship fund was established, the scholarship will be funded through a planned gift in excess of $1 million. In 1999 he was awarded the Michigan Tech Board of Trustees Silver Medal, in recognition of personal accomplishment.
From 2009 Induction to the Civil and Environmental Engineering Academy