Robert M. Thompson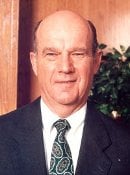 Mr. Robert M. Thompson spent his boyhood living and working on the Thompson family farm in Jonesville, Michigan. In 1952, he enrolled at Bowling Green State University and participated in ROTC. Upon receiving his baccalaureate degree in 1956, Robert was commissioned as a lieutenant in the Air Force and became a jet fighter pilot.
After his discharge from the Air Force in 1959 as a captain, Mr. Thompson and his wife invested $3,500 of their savings to start a chip seal road paving business with his uncle, Wilfred McCully. In 1960, Thompson bought his uncle's share of the company and soon expanded into the asphaltic concrete paving business. The firm grew further from 1969 through the 1980's by purchasing Ann Arbor Construction, Richardson Asphalt Paving of Jackson, Globe Construction of Kalamazoo, Grand Rapids Asphalt, Woodland Paving of Comstock Park, and Spartan Asphalt Paving of Lansing. In 1993, the firm began operations at its own limestone quarry and developed its own asphalt cement storage facility. Today, the Thompson-McCully firm is one of the largest asphalt paving companies in the Midwest with about 500 employees and generating about $160 million of revenue per year.
Mr. Thompson's leadership has been recognized by his election as President of the Michigan Asphalt Paving Association from 1986-88, and as President of the National Asphalt Paving Association in 1992. He currently serves as President of the Michigan Road Builders Association. Robert is a member of the Michigan Tech President's Club and was recently presented with the Michigan Tech Civil and Environmental Engineering "Golden Level Award". Robert and his wife, Ellen, have three children and live in Plymouth, Michigan.
From 1995 Induction to the Civil and Environmental Engineering Academy