Robert F. Seaton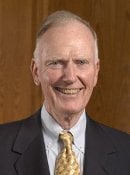 BS Civil Engineering 1952
Mr. Robert Seaton completed his baccalaureate degree in civil engineering at Michigan Tech in 1952 and from there joined the U.S. Navy for active duty from 1952-1954. Following his Navy service he earned an MBA at Stanford University in 1956 and from there began a career in the banking industry with Palo Alto Mutual Savings and Loan Association in Palo Alto, California.
Over the course of his career, Mr. Seaton served as; Vice President of First Western Savings and Loan Association in Las Vegas, Vice President of Federal Home Loan Bank of Cincinnati, President and CEO of The Second Federal Savings and Loan Association of Cleveland. He was affiliated with Cardinal Federal Savings Bank in Cleveland from 1973 through 1988 as; President, CEO, Director, and Chairman of the Board and then served as President of Planned Giving Systems, Inc. until his retirement in 1994.
Mr. Seaton has received numerous honors and awards including the Michigan Tech Board of Trustees Silver Medal in 1983, Certificate and Key from the Graduate School of Savings and Loan, Indiana University, Graduate Diploma from the Institute of Financial Education in 1970. He has been active in community service through several groups including; the Alumni Steering Committee and Class President for Leadership Cleveland, Board of Trustees and Treasurer for Northeast Ohio Council on Higher Education, Member and Board of Trustees Advisor for Garfield Memorial United Methodist Church, and Board of Trustees and Vice President for Lutheran Housing Corporation.
Bob and his wife, Jean, reside in Cleveland, Ohio and have two children. He is the brother of fellow Academy member, Kenneth Seaton.
From 2004 Induction to the Civil and Environmental Engineering Academy