Richard D. Wilcox, PE, PS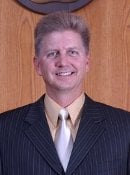 BS Civil Engineering 1982
Richard Wilcox, President/CEO, Wilcox Associates, Inc. earned a baccalaureate degree in civil engineering in 1982 and a baccalaureate degree in land surveying in 1983. Rick joined Wilcox Associates, Inc. of Cadillac, Michigan in 1983 and has guided the multi disciplined consulting engineering firm to a 270 person staff with offices in Michigan (10), Indiana (1), Arizona (2), Wisconsin (1) and three operating companies: Wilcox Professional Services, LLC, Wilcox Design/Build, LLC and Wilcox Ventures, LLC. Wilcox has been listed for six consecutive years as a ZweigWhite Hot Firm; five consecutive years as a Civil Engineering News - Best Firm to Work For; and four consecutive years as an Engineering News Record (ENR) Top 500 Design Firm.
Mr. Wilcox has numerous professional affiliations and accomplishments including: American Consulting Engineers Council (ACEC), Transportation Committee, Past Chairman; American Consulting Engineers Council of Michigan (ACEC/M) Transportation Committee, Charter Member and Past Chairman, Board of Directors, past member, and National Quality Initiative Steering Committee, past member; Michigan Society of Professional Engineers; and Michigan Road Builders Association, Board of Directors. Mr. Wilcox has also been appointed by the Governor to the Michigan Economic Development Corporation Corporate Board and the Michigan Strategic Fund Board. He has presented a variety of topics at professional conferences and meetings including: ISO 9000 Quality System Presentation, ACEC/MDOT (2001, 2003), and ACEC - White Paper on ISTEA II Re-authorization.
Rick, his wife Andrea, and three children (Patrick, Jennifer and Ethan) reside in Cadillac, Michigan.
From 2005 Induction to the Civil and Environmental Engineering Academy