Richard Masica, PE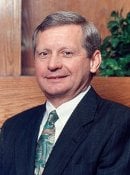 BS Civil Engineering 1958
Mr. Richard Masica, a 1958 civil engineering graduate of Michigan Tech, is the President of Texaco Chemical Inc. In 1960, Dick received a Masters in Management Science from Cornell University. He began his career with Texaco in 1959 and progressed through a series of engineering and supervisory assignments. He was named Chief Engineer at the Westville, New Jersey refinery in 1970.
He continued his rise within Texaco helping the start-up of a new refinery in Sweden in 1975 and becoming Assistant to the General Manager of the Company's domestic refining operations in 1977, Assistant Plant Manager in 1978, and Plant Manager in 1980. In 1982, he was named Assistant Director - Alternate Energy and Resources Department and later that year Manager of the Southwestern Region for Texaco. He was promoted to Vice President of Business Management for Texaco Chemical Company in 1992.
He is a member of the American Management Association, and a registered professional engineer. He is also a Member of Michigan Tech's President's Club. He has a record of outstanding civic service, being a member of and receiving a number of awards from civic and service organizations for his contributions to various communities where he has resided. In 1992, he received the Michigan Tech Board of Trustees Silver Medal Award.
From 1993 Induction to the Civil and Environmental Engineering Academy