Raymond Rought, PE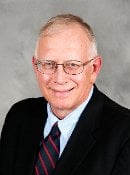 BS Civil Engineering 1970
Raymond Rought completed his baccalaureate degree in civil engineering at Michigan Tech in 1970. Following graduation, he served in the US Army in Vietnam, assigned to the Medical Command Headquarters Long Binh. Upon return to civilian life, Ray joined the Michigan Department of Transportation, Bureau of Aeronautics as an Airport Development Engineer. In 1978 he completed his Master of Science in civil engineering from Michigan State University. He stayed with MDOT until 1986 having attained the level of Division Director.
In 1986 he became Director of the Office of Aeronautics for the Minnesota Department of Transportation and was appointed the Aeronautics Division Assistant Commissioner. His responsibilities included airport planning, zoning, design and construction. In 2007 the annual budget that his office was responsible for was $22.4 million. Presently, he is Assistant to the Director for the Employee and Corporate Services Division at the Minnesota Department of Transportation.
Mr. Rought has been very active as a member of the National Association of State Aviation Officials, serving as Chair of the Center for Aviation Education and Research for several years, and as the National Vice President in 1992 and President in 1993. In 2007 he was awarded the Kenneth Rowe Ambassador of Aviation award. He has also been active with the Transportation Research Board, and the American Association of State Highway and Transportation Officials. In 2011 he was elected to the Minnesota Aviation Hall of Fame. Ray is also a pilot with single engine land and sea endorsements. He and his wife, Carol, reside in Forest Lake, Minnesota.