Ned W. Bechtold, PE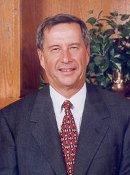 Ned W. Bechthold, President/Chief Executive Officer, Payne and Dolan Inc, received his baccalaureate degree in civil engineering in 1959 from the University of Wisconsin. Following graduation he served as an officer in the U.S. Army Corp of Engineers. Since his return to civilian life he has built Payne and Dolan Inc. into the largest asphalt paving company in Wisconsin.
His outstanding contributions in the areas of engineering and business have been recognized with the Distinguished Service Award from the University of Wisconsin College of Engineering in 1993. His efforts to develop employment opportunities within the city of Milwaukee have been recognized by the Department of Transportation Secretary's Award for the Development of Disadvantaged Business Enterprises. In 1992 Ned received the Frank Kirkpatrick Award from the Milwaukee Foundation in recognition of his work in recruiting and hiring more than 140 minorities from Milwaukee's central city.
Mr. Bechthold is on the Board of Directors of the National Center for Asphalt Technology (NCAT). Formed through an agreement between the National Asphalt Pavement Association Education Foundation and Auburn University, NCAT serves to translate the latest in asphalt research into practical applications. Ned has taken an active role in the community by serving as Director of the Firstar Bank of Milwaukee; Director of the Bradley Sports Center; Past Chairman of the Board - St. Luke's Hospital, Milwaukee; Trustee - Boys and Girls Club of Milwaukee; and Trustee - Siebert Foundation.
From 1997 Induction to the Civil and Environmental Engineering Academy