Kristen Mariuzza, PE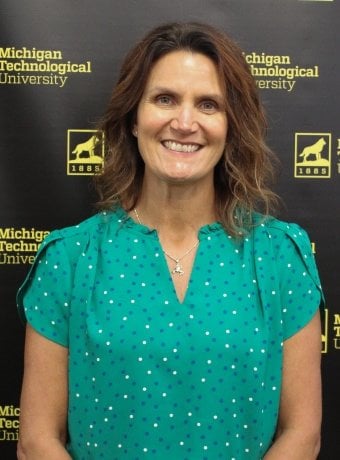 BS Environmental Engineering 1998
Kristen Mariuzza has proven herself as a leader in the mining industry, focusing on providing safe and environmentally-responsible practices. The senior vice president for sustainability, health, and safety for Lundin Mining Corporation (LMC) started her career with a bachelor's degree in environmental engineering from Michigan Tech in 1998.
"MTU did not teach me what to think, it taught me how to think," she said. "It provided the guidance, resources, and environment to transition from a high school student to an adult ready to take on the real world. It's not only the academics that I give MTU credit for, it was the entire experience at the University that helped shape who I am today."
After earning her degree, Mariuzza spent nearly a decade with the Michigan Department of Environmental Quality (MDEQ) working closely with communities to ensure continued protection of the Upper Peninsula's water resources. During that time, she became MDEQ's Water Division mining specialist and held an integral role on the Michigan stakeholder advisory board that crafted new mining legislation.
Mariuzza moved to the private sector as the environmental and permitting manager for Eagle Mine in Ishpeming in 2010 and expanded her duties to include oversight of health and safety initiatives in 2015. She was responsible for all health, safety, and environmental related activities that occurred during the final permitting, construction, start-up and operation of one of Michigan's first underground mines to be built in decades. She was then promoted to managing director of Eagle Mine with responsibility for daily oversight of Eagle's continuous mining and milling operations. The operation today is the only primary nickel mine in the United States and is considered a model for modern mining.
In 2020, Mariuzza was promoted to VP of environment and social performance at LMC, where she was responsible for the oversight of environment and social performance strategic initiatives in the jurisdictions where the company operates (Canada, Portugal, Sweden, Brazil, Chile, and USA). In 2022, she was named to her current position as Senior VP for Sustainability, Health, and Safety. She serves as a member of LMC's executive leadership team responsible for providing oversight of corporate strategy development, execution, and disclosure in the areas of health, safety, and sustainability.
"As an undergraduate researcher for Dr. Alex Mayer and Dr. John Gierke, I worked in the area of groundwater remediation," she recalled. "Not only was this work pivotal to why I chose my line of work, it also impacted how I interact with my teams and coworkers on a daily basis. They always asked my opinion, genuinely listened, and consistently showed me the same level of respect as I felt for them. It's an admirable leadership quality that I strive to maintain each day."

As an influential leader in the mining industry, Mariuzza serves as a board member for the Mining Association of Canada and for the Lundin Foundation. She has participated in an MSU Natural Resources Leadership Academy, Operational Leadership Academy led by Duke University, Stakeholder Engagement Academy led by Georgetown University, and is a licensed professional engineer in the State of Michigan.
Mariuzza's ties to Michigan Tech remain strong. She was elected to the Academy of Civil and Environmental Engineers in 2019. She has given presentations to both undergraduate and graduate students and was featured in a podcast with President Rick Koubek on the revitalization of the mining engineering program at Tech.
"It's important to me to give back to Tech, which was so important to me," she said. "As a student, I appreciated hearing from those in the workplace, bringing actual examples of where I could take my career, allowing me to see the 'light at the end of the tunnel,' and answering the questions that are not addressed in the classroom."
Mariuzza was selected for induction into the Presidential Council of Alumnae in 2023.
Updated August 2023