Kenneth D. Seaton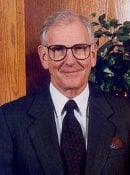 BS Civil Engineering 1951
Kenneth Seaton was born and raised in the Copper Country and entered Michigan Tech in 1947. During his years at Tech, he earned varsity letters in track and basketball, and was MVP of the basketball team in 1951. He received his baccalaureate degree in civil engineering in 1951 and joined the Michigan Highway Department as an engineer trainee. In 1952, he entered the United States Navy and served as a seaplane pilot in Japan. Upon his discharge from the Navy, he joined Jones and Laughlin Steel Corporation as a mining engineer on the Minnesota iron range.
He returned to the Copper Country in 1957 and accepted a position as an appraiser with Detroit and Northern Savings and Loan. In 1960, he entered the Savings and Loan Graduate School at Indiana University and received a diploma in 1962. He was appointed vice president of Detroit and Northern in 1962, was elected to the board of directors in 1964, and became president and chief executive officer in 1968. Under his leadership, Detroit & Northern grew to be the second largest savings bank based in Michigan. At the same time, Ken participated in numerous professional, civic and charitable activities. He was elected Chairman of the Michigan League of Savings Institutions in 1978, and Chairman of the U.S. League of Savings Institutions in 1989. He retired from his position as chief executive officer of D&N Bank in 1992, but continues as Chairman of the Board.
Ken presently serves as Chairman of the Suomi College Board of Trustees, serves on the Advisory Board of the Salvation Army of the Copper Country, and is a Rotarian and a life member of the Keweenaw Chamber of Commerce. He received the Michigan Tech Board of Trustees Silver Medal in 1973, the Suomi College Lion Award in 1985, the Northern Michigan University President's Award for Distinguished Citizenship in 1987, and an Honorary Doctor of Humane Letters from Suomi College in 1996. Ken is also a member of the Michigan Tech President's Club and is an accomplished squash player. He and his wife Lois (nee Isaac) reside in Hancock and have five children, all of whom are outstanding skiers.
From 1996 Induction to the Civil and Environmental Engineering Academy