John A. Fortier, PE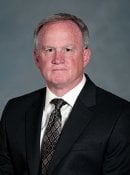 BS Civil Engineering 1978
John Fortier completed his baccalaureate degree in civil engineering in 1978. He is the President of Bacco Construction of Iron Mountain. Bacco Construction is a private company offering highway construction, concrete and asphalt paving, excavating, and site development services. Mr. Fortier joined Bacco following his graduation in 1978 and has served in his current role as President since 1997.
Mr. Fortier is a registered Professional Engineer in Michigan and served on the Michigan Road Builders Board of Directors and on the Executive committee of the Michigan Asphalt Paving Association. He has also served on the Dickinson County Hospitals Board of Trustees, the Iron Mountain School Board, and on the Michigan Tech Pavement, Design and Construction Materials Enterprise Advisory Board.
While at Michigan Tech, John was a member of Kappa Delta Psi fraternity and was Captain of the Varsity Wrestling team. He received the Most Valuable Dean Kerekes Wrestling Award and competed successfully at a national level throughout his college career.
John and his wife, Teresa, have three children; Kyle, Dana, and Jenna. Kyle recently completed his civil engineering degree from Michigan Tech.
From 2009 Induction to the Civil and Environmental Engineering Academy