Jennifer Hartfelder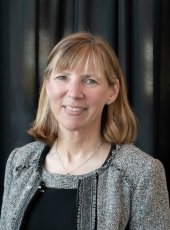 BS Civil Engineering 1990
Jennifer Hartfelder completed her Bachelor's Degree in Civil Engineering from Michigan Tech in 1990 and went on to complete a Master's Degree in Civil Engineering at the University of Colorado, Denver. She is Vice President of Stantec, a top-tier global design and delivery firm. Based in Denver, Colorado, Hartfelder has over 30 years of experience providing project management and engineering design for municipal and federal clients. Her water and wastewater treatment plant experience includes preparation of master plans, preliminary and detailed designs, and engineering services during construction. She has managed water and wastewater projects up to $10M with numerous small business subcontractors. She has extensive experience in the evaluation and design of wastewater disinfection systems, as well as business management experience including mentoring and leading staff, project delivery, client service management, and business development.
Jennifer previously served as strategic campaign manager for Stantec's Water business, leading top marketing campaigns across North America. She was responsible for leading the local pursuit teams to perform client account analyses, developing campaign plans and sales messages, and preparing statement of qualifications, proposals, and interviews. She was responsible for securing $10 to $20 million in sales per year.
She is a past president of the Water Environment Federation (WEF) and of the Rocky Mountain Water Environment Association. In 2021, she was named a WEF Fellow, one of the industry's highest honors. She is a registered professional engineer in Colorado and Washington and Project Management Professional.
From the 2022 Induction to the Civil, Environmental, and Geospatial Engineering Academy.
Updated Monday, August 29, 2022.