Gary H. Hagstrom, PE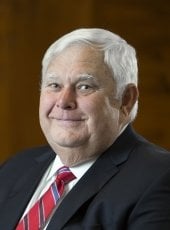 BS Civil Engineering 1972
Gary Hagstrom completed his baccalaureate degree in civil engineering in 1972 and accepted employment with Standard Oil of California (later renamed Chevron Corporation). He obtained his Professional Engineer license in California in 1974 and spent 35 years with Chevron, retiring in 2007 as President of Chevron's Project Resources Company.
He initially worked in providing civil engineering design and support for a variety of process plant and marine terminal projects. He then moved on as a Construction Engineer, working on refinery expansion in the US.
After gaining this experience with the industry, he moved to the upstream side of the business and had 23 years of increasing responsibility in the design and construction management of internal organizations responsible for small to very large capital projects necessary to support oil exploration, ongoing oil production and new oil production projects. Major assignments included four years in the UK on North Sea Development projects; three years in Sudan in support of projects necessary for oil exploration and early phase development; seven years in Nigeria in managing ongoing and new production project teams and various other similar assignments in the US and abroad.
His final assignment in 2000 was President of Chevron's Project Resources Company, responsible for providing and managing the procedures and personnel to manage the development and execution of Chevron's extensive capital projects. Annual project expenditures were in the $10-15 billion range during this seven-year period.
Since his retirement, Gary has been enjoying a wide range of outdoor activities in the peace and quiet of Northern Wisconsin with his golden doodle, Bella.