Russell Gronevelt, PE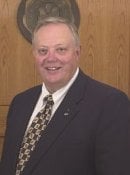 BS Civil Engineering 1969
Russell Gronevelt's commitment to Michigan Tech runs long and deep.
His service to Tech began as a civil engineering undergraduate, when he was active in the Sigma Rho fraternity and the intra-fraternity council and service on the Student Judiciary. Once settled into his career, he served two terms on the Civil and Environmental Engineering (CEE) Professional Advisory Committee, and the Executive Committee for the CEE Department's "Educating Graduates of Choice" Campaign.
His leadership skills are also reflected by his twelve year membership on the Michigan Tech Fund Board of Trustees. He is most proud, though, of his years served as a member of the Board of Trustees, and serving as Board Chairman for the last two years of his appointment, which he completed in December, 2010. He now serves on the Michigan Tech Entrepreneurial Support Corp., and Educational Support Institute.
Originally from Livonia, Michigan, he earned his Bachelor of Science degree in Civil Engineering from Michigan Tech in 1969. In 1982, he earned his Master of Science in Civil from Wayne State University. His career began in the Engineering department for the City of Livonia, where he then became Director of Public Works.
In 1987 he became the Assistant County Executive and Director of Public Services for Wayne County, where he was responsible for the fifth largest public works organization in the nation.
Gronevelt was honored by the American Public Works Association, in 1994, as one of the top ten public works leaders in America. In 1997, He joined Orchard, Hiltz, McCliment, Inc., as the director of transportation and became President in 1999. Orchard, Hiltz, McCliment, Inc. is a civil engineering consulting firm that specializes in providing environmental, transportation, municipal, and general engineering services They also provide clients with architectural and community planning services.
Gronevelt has been active in several professional associations, including his roles as president and member of the Board of Directors for the Michigan County Road Association, national representative for the American Public Works Association, and the Board of Directors for the Michigan Chapter of the Intelligent Transportation Society. Russ is currently proud to be serving as a member of the Houghton County Road Commission.
Gronevelt and his wife, Charlene, divide their time between residences in Plymouth and Dollar Bay, Michigan. They are proud of their three sons, two daughters-in-law, and especially enjoy their four beautiful grandchildren.
The 2011 Outstanding Service Award was presented by the Michigan Tech Alumni Association to Gronevelt in recognition of his significant contributions to the success of the Association and the University.
From 2001 Induction to the Civil and Environmental Engineering Academy
Updated June 21, 2016, by Russ Gronevelt