Michael Drewyor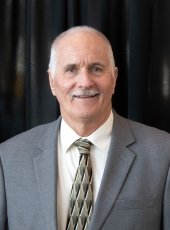 BS Civil Engineering 1972
MS Civil Engineering 1974
Michael Drewyor received his bachelor's (1972) and master's degrees (1974) in civil engineering from Michigan Tech. He was an owner and partner with Robert Hitch at Hitch Inc. for 30 years where he provided architectural, civil/structural, and surveying services for private, industrial, and government clients. The business was sold in 2007 to Orchard, Hiltz, and McCliment, Inc. of Livonia, Michigan.
Drewyor retired from Michigan Tech in 2020 as the Roland A. Mariucci Professor of Practice where he taught for the previous 13 years. His teaching assignments included courses in Construction Management and senior capstone courses. He was also an advisor for the Associated Schools of Construction estimating team.
Drewyor has also been active in alumni activities, serving on the Sigma Rho Fraternity, Inc. board since graduation, the Alumni Board of Directors in the 90s, and was the local alumni chapter president in the 00s. He is a member and supporter of the Huskies Club.
Drewyor serves as a National Council of Examiners for Engineering and Surveying (NCEES) emeritus member from both the Michigan State Board of Professional Engineers and the Michigan State Board of Professional Surveyors. He previously served eight years on both Michigan boards. He received his commission as NCEES Central Zone vice president in 2020. As the vice president, Drewyor serves on the NCEES Board of Directors and as the zone's administrative officer through 2022. He is also a current candidate for the NCEES position of President - Elect. This three-year cycle will run through August 2025.
Mike and Judy reside in Houghton, Michigan, and have two children, Jennifer (Houghton) and Adam (Colorado).
From the 2022 Induction to the Civil, Environmental, and Geospatial Engineering Academy.
Updated Monday, August 29, 2020.