David T. Rowe, PE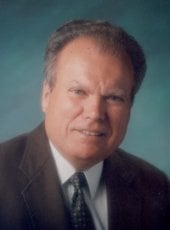 BS Civil Engineering 1951
David T. Rowe, Project Manager, Inland Seas Engineering, Inc., came to Michigan Tech after attending Flint Junior College and earned his degree in civil engineering in 1951. Following graduation David served two years with the U.S. Army as a project engineer at Ft. Belvoir, Virginia. After returning to civilian life he joined Gould Engineering of Flint, Michigan and was named Vice President of the company in 1958.
He founded Rowe Engineering of Flushing, Michigan in 1962. Over the next thirty years David guided Rowe Engineering to be one of Michigan's leading civil engineering and land surveying consulting firms. In 1993 he sold his interest in Rowe Engineering and joined forces with his daughter, Rebecca, and son-in-law, Andrew Smits, both Michigan Tech geological engineering graduates, to form Inland Seas Engineering Inc.. Inland Seas offers civil and environmental engineering services as well as land surveying in Suttons Bay, Traverse City, and Flushing, Michigan.
Mr. Rowe has shared his vast experience in private and municipal work by serving on the National Task Force Committee to develop Barrier Free Standards for the U.S. Department of the Interior under the American Disabilities Act. He also is a past President of the Consulting Engineers Council of Michigan, served as National Chairman at the ACEC Education and Scholarship Committee, was elected a Fellow by the American Consulting Engineers Council, served as Secretary of the Michigan Society of Land Surveyors, and served on the Board of Education for the Flushing Community Schools.
David is a member of the Michigan Tech President's Club, and served on the Executive Council of the Civil and Environmental Engineering "Partnering with the Future Campaign". Rowe is also a 33rd Degree Mason. He and his wife, Senia, have three children and reside in Northport and Flushing, Michigan.
From 1997 Induction to the Civil and Environmental Engineering Academy