David P. Gustafson, PhD, PE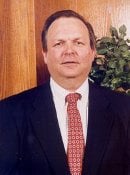 BS Civil Engineering 1961
David Gustafson was born and raised in the Copper Country and came to Michigan Tech following his graduation from Hancock High School in 1957. He earned his baccalaureate degree in civil engineering in 1961. Following graduation, he worked for Bergeron & Lang Consulting Engineers in New Orleans and continued his graduate study in structural engineering at Tulane University where he earned his doctoral degree in 1967.
He served as an assistant professor of civil engineering at Michigan Tech from 1967 to 1970, and subsequently joined the Concrete Reinforcing Steel Institute (CRSI) where he has risen to Vice President of Engineering. Dr. Gustafson is recognized as an expert on cast-in-place reinforced concrete construction. At CRSI, he is responsible for coordinating and implementing all technical activities including development of technical publications, presentation of seminars and publications and coordination of CRSI Technical Committees.
Dr. Gustafson is a member of ASCE and is a vice chairman of the ASCE Reinforced Concrete Research Council. He serves on the Board of Directors and is a Fellow of the American Concrete Institute. He is a Fellow of the American Society for Testing Materials (ASTM) and is active on several ASTM committees. He is active in the American Welding Society, American Railway Engineering Association, and the Structural Engineers Association of Illinois.
He received the 1989 Delmar L. Bloem Award from the American Concrete Institute in recognition of exceptional technical and administrative leadership. The American Society of Testing Materials honored him with its 1995 Award of Merit for outstanding leadership in the development of standards for steel reinforcement. Dr. Gustafson has authored more than 30 technical publications and has given numerous conference and technical presentations.
From 1996 Induction to the Civil and Environmental Engineering Academy