Daniel L. White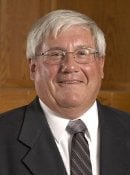 BS Civil Engineering 1969
Mr. Daniel White is presently the founder and CEO of Kegwhit Corporation, a land development company. Mr. White completed his baccalaureate degree in civil engineering at Michigan Tech in 1969. Following graduation, Mr. White worked as a consulting engineer in Colorado and then as a city engineer for the City of Louisville, Colorado.
In 1977 he changed career paths and became the owner of DMW, Inc. and owned and operated seven Burger King Restaurants in Colorado until 1995. In 1992 he co-founded and served on the Board of Directors for 1st Choice Bank, which subsequently grew to seven locations and was acquired by Wells Fargo in 2001. Additionally, in 1990 Mr. White founded and owned Coldwell Banker, Plains Real Estate in Greeley, Colorado through 1999.
Mr. White is active in community service through the Redeye Rotary Club, Boy Scouts of America, Weld County Food Bank, and is a tutor for third grade reading. During his years at Michigan Tech he was active in Tau Beta Pi, and the Civil Engineering honor fraternity, Chi Epsilon. He and his wife, Mary Beth, reside in Greeley, Colorado where he enjoys fishing, golf, woodworking, and spending time with his grandchildren.
From 2004 Induction to the Civil and Environmental Engineering Academy