Dale K. Deibel, PE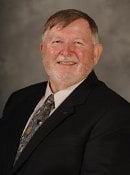 BS Civil Engineering 1974
Dale Deibel, P.E. is currently the chief operating officer at Spicer Group, Inc. – an engineering, surveying, and planning firm with 150 employees and offices in Saginaw, Detroit, Caro, St. Johns, and Tempe, Arizona. He completed his baccalaureate degree in civil engineering in 1974 and obtained his P.E. registration in 1978. After graduating from Michigan Tech, Dale worked briefly for Elk Grove Engineering in Illinois. He has been with Spicer for over 33 years and currently works out of the company's headquarters in Saginaw.
Dale has served in many positions at Spicer, including President, which he recently retired from in 2005. Dale's primary roles at Spicer now include overseeing the operations of the company and establishing and maintaining relations with the community groups. Prior to providing administrative services, Dale specialized in watershed management, and worked on a wide variety of civil engineering projects for municipal, commercial, and industrial clients.
He is a member of the National Society of Professional Engineers, American Council of Engineering Companies, and the American Society of Civil Engineers. He is also active with community groups including the Saginaw Rotary Club and Saginaw County Chamber of Commerce.
Dale enjoys spending time with his wife, Nancy, daughters Carrie and Melissa, son Eric, and his four grandchildren. His hobbies include fishing, hunting, and spending time at his cabin on Upper Peninsula's Big Manistique Lake.
From 2007 Induction to the Civil and Environmental Engineering Academy