Roger Crimmins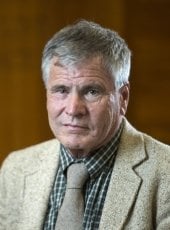 BS Civil Engineering 1971
Roger Crimmins completed his baccalaureate degree in civil engineering in 1971. He is the President of A. Lindberg & Sons, Inc. of Ishpeming, MI. A. Lindberg & Sons is a private company offering highway construction, crushing, bridges, heavy underground excavating, dams, and industrial site development services. Roger joined ALS in 1966 and has served as Treasurer, Vice President and his current roll as President since 1999.
Roger served on the Michigan Road Builders Board of Directors from 1985-1995. He has also served on the City of Marquette Public Works Board, and as a Director of the Marquette Regional History Center.
Roger and his wife, Catherine, have two children; Katherine and Rebecca. Roger is the 4th generation of A. Lindberg & Sons Construction Company that just celebrated their 100th anniversary in 2014. Roger is also the owner of Republic Mine, and various commercial developments in Marquette (US 41 corridor).