Clarence P. Ulstad, PE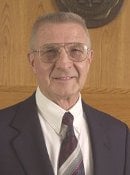 BS Civil Engineering 1950
1928–2020
Mr. Clarence Ulstad, completed his baccalaureate degree in civil engineering at Michigan Tech in 1950. Before coming to Michigan Tech, Mr. Ulstad served in the U.S. Navy, Seaman to Lieutenant, CEC. After completing his civil engineering degree he joined the American Bridge Division of U.S. Steel Corporation where he advanced to Senior Designer-Estimator. In 1962 he joined Wisconsin Bridge and Iron as Chief of Research and Development working with steel and aluminum structural design and fabrication. In 1965 he joined Allied Structural Steel as Chief Engineer and progressed to Senior Vice President.
In 1975 he became co-owner and Senior Vice-President of Tokola Offshore, Inc., a company that specializes in offshore platforms for the oil industry. In 1993 he retired from Tokola and became President of CPU International where he provides consulting services for fabricating, erecting and retrofitting major bridges worldwide. Mr. Ulstad is one of the leading experts in the design, fabrication, and erection of structural steel for buildings, bridges, and offshore structures.
Throughout his career he has been very active in ASCE and AISC, and even now continues to participate in the programs and activities of AISC. Clarence is originally from Laurium and his wife, Irene, is from Lake Linden. The Ulstad's have four adult children and reside in Palm Desert, California.
From 2002 Induction to the Civil and Environmental Engineering Academy